Extron Welcomes New One-Gang HDMI Transmitter to DTP3 Family
Public relations contact:
Joe da Silva, Vice President of Marketing
Extron
E-mail: pr@extron.com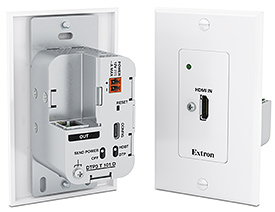 Anaheim, California (October 24, 2023) - Extron is pleased to introduce the new DTP3 T 101 D, a one-gang decorator-style transmitter for sending HDMI up to 330 feet (100 meters) over a shielded CAT 6A cable. It extends video resolutions up to 4K/60 at 4:4:4 without compression, ensuring optimal image quality. This HDCP 2.3-compliant transmitter includes EDID Minder, a comprehensive EDID management technology for dependable content display. It also supports multiple embedded audio formats. Installation is easy; it can be powered remotely by a DTP3-enabled product or with the included Extron Everlast power supply. Loaded with features and capabilities, the DTP3 T 101 D wallplate transmitter enables placement of an HDMI input connection precisely where it is needed.
"Providing AV connectivity in tight places and extending those signals over long distances have long been challenges for integrators," says Casey Hall, Chief Marketing Officer for Extron. "The wall-mountable design of the DTP3 T 101 D addresses this by facilitating remote transmission of 4K/60 signals within our growing family of DTP3 products."
The DTP3 T 101 D provides reliable transmission of HDMI signals, supporting CEC pass-through and embedded HD lossless audio formats. To ensure direct compatibility and optimal signal transmission between devices, DDC communication of EDID and HDCP is continuously maintained between a source and display. This wallplate transmitter also provides convenient, integrator-friendly features designed to help simplify installation and can be remotely powered over the shielded CAT 6A cable. The wallplate transmitter can be used in point-to-point applications to support sources at remote locations. For integration convenience, the DTP3 T 101 D includes a one-gang decorator-style wallplate.
For more information on the DTP3 T 101 D, click here.