Extron Now Shipping Next Generation 4K/60 HDMI Switcher with Integrated DTP2 Transmitter and Local Output
Public relations contact:
Joe da Silva, Vice President of Marketing
Extron
E-mail: pr@extron.com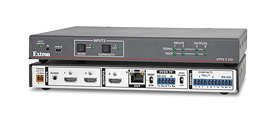 Anaheim, California (October 5, 2020) - Extron is pleased to announce the immediate availability of the DTP2 T 212, a two-input twisted pair transmitter for sending HDMI, audio, and control to a DTP-enabled product. It provides two HDMI inputs, one DTP2 output, and one HDMI output to support a local monitor. The HDCP 2.3-compliant transmitter accommodates data rates up to 18 Gbps and supports video resolutions up to 4K/60 at 4:4:4. The integrated DTP2 transmitter enables signal extension up to 330 feet (100 meters) over a shielded CATx cable. Audio and bidirectional control are transmitted alongside the video signal, streamlining integration. These capabilities and the low-profile enclosure make the DTP2 T 212 ideal for professional enviroments requiring discreet local source switching and signal extension from lecterns, beneath tables, or wherever needed.
"DTP2 incorporates the latest technologies to address continued advancements of digital video signaling and resolutions," says Casey Hall, Vice President of Worldwide Sales and Marketing for Extron. "The new DTP2 T 212 transmitter enables versatile AV designs while delivering the performance, reliability, and economical approach you've come to expect with DTP Systems."
The DTP2 T 212 transmitter drives the DTP2 and HDMI outputs simultaneously with the selected signal. To support local monitor applications, the HDMI output can be assigned to either of the HDMI inputs. In addition to data rates up to 18 Gbps, it supports Deep Color up to 12-bit, 3D, and embedded HD lossless audio formats. Other integrator-friendly features include EDID Minder, auto-switching between inputs, and bidirectional RS-232 and IR pass-through for remote AV device control.
For more information on the DT2 T 212, click here.