Extron Now Shipping Unique 4K/60 4:4:4 Two Input Floor Box Transmitter with HDCP 2.3 Compatibility
Public relations contact:
Joe da Silva, Vice President of Marketing
Extron
E-mail: pr@extron.com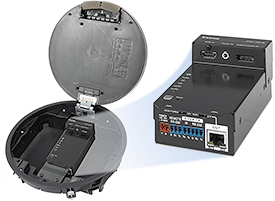 Anaheim, California (December 18, 2020) - Extron is pleased to announce the immediate availability of the DTP2 T 202 FB, a two‑input transmitter that sends DisplayPort or HDMI, audio, and control up to 330 feet (100 meters) over a shielded CATx cable to a DTP-enabled product. Its unique form factor provides a flexible, floor box mounting solution that is compatible with offerings from OBO Bettermann, MK by Honeywell, Electraplan, and PUK. The DTP2 T 202 FB supports video resolutions up to 4K/60 at 4:4:4 color sampling, and complies with HDCP 2.3. Analog stereo audio embedding, assignment of the stereo analog audio input, EDID Minder technology, and automatic switching between inputs allow easy operation in unmanaged locations. Designed for DTP Systems, the DTP2 T 202 FB enables discreet placement in a floor box under a lectern, table, or wherever needed to meet application requirements.
"The DTP2 T 202 FB adds 4K/60 4:4:4 capability along with DisplayPort connectivity to our popular floor box offering," says Casey Hall, Vice President of Worldwide Sales and Marketing for Extron. "It provides the convenient features you find in our other DTP and DTP2 transmitters, with the added benefit of easy installation within a floor box."
The DTP2 T 202 FB is compatible with all DTP Systems products and can be configured to send video and embedded audio, plus bidirectional RS‑232 and IR signals, to an HDBaseT™-enabled display. Also, it can be configured to receive power from the connected DTP2 receiver, allowing both devices to share one power supply and simplifying installation.
For more information about the DTP2 T 202 FB, click here.