Compact 4K/60 HDMI Scalers Loaded with Essential Features
DSC 401 and DSC 401 A
The Extron DSC 401 and DSC 401 A are high-performance scalers capable of converting between HDMI resolutions up to 4K/60 with full 4:4:4 color sampling. They incorporate the Extron-exclusive Vector™ 4K scaling technology, which is specifically engineered to provide best-in-class video scaling for the widest variety of professional environments. Both HDCP 2.3‑compliant models support 4K/60 signals on a single connection and data rates up to 18 Gbps. A few of the many integrator-friendly features include an on‑screen display menu system, internal test patterns, and status LEDs. The DSC 401 A is enhanced with additional capabilities. This scaler also features audio embedding and de‑embedding, input presets, logo image keying and display for on‑screen corporate branding and messaging, and Ethernet control with PoE.
Unparalleled Scaling Quality
The Vector 4K scaling engine produces sharp, accurate output and preserves single-pixel detail that other scaling methods lack. Critical detail is preserved, even when presenting a source at a fraction of the original resolution.

Custom Output Resolution
The DSC 401 and DSC 401 A support custom output resolutions, maximizing compatibility with evolving display technology, non‑standard displays, and LED systems. This also eliminates the need for the display to perform internal scaling. This capability ensures content display at the highest quality.

Seamless Presentation of Upstream Source Devices
When a new signal is detected upstream of the input, content is frozen momentarily and transitioned to the new source. Both scaler models offer a variety of popular effects to transition to the switched source. Available options for transition effects include Cut Through Black, Fade Through Black, Seamless Cut, and Seamless Fade.
The image transitions between an image of a lion and an image of the desert by cutting to black for a moment before changing images.
The image transitions between an image of a lion and an image of the desert by dissolving through a black screen before changing images.
The image cuts seamlessly between an image of a lion and an image of the desert.
The image dissolves between an image of a lion and an image of the desert.
Enhanced Audio Capabilities
The DSC 401 A provides a convenient analog audio input for embedding audio onto the HDMI signal stream. A two‑channel analog audio output enables de‑embedded audio to be sent to a sound system or other audio destination. In addition, this model delivers essential audio integration capabilities, including discrete, selectable analog and digital audio muting, analog input gain and attenuation, and output volume control. Audio file playback is also supported on the DSC 401 A scaler. Users are able to store up to 16 pre‑recorded messages for playback over the program audio output.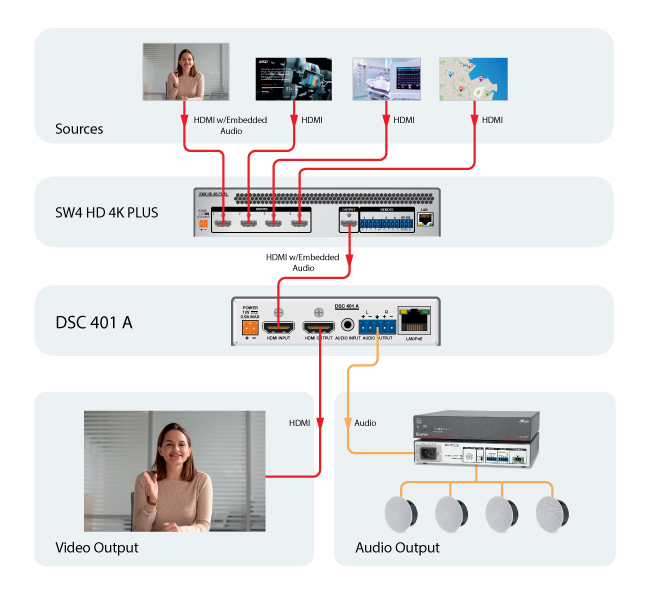 Logo Keying and Display
BMP, GIF, JPG, PNG, and TIFF image files can be uploaded to the DSC 401 A for use as logos or supplementary content. The selected image can be positioned anywhere on the screen. Image transparency is supported, as well as level and color keying. Full screen images at resolutions up to 4096x2160 can also be recalled to provide information to the presentation audience.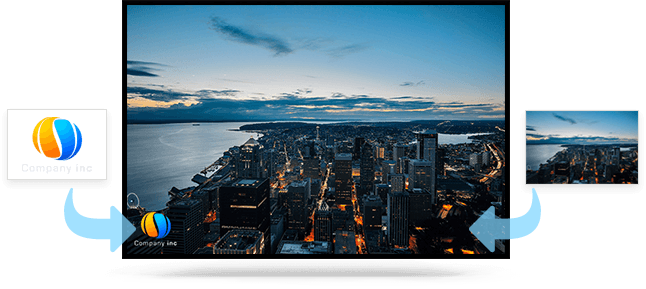 Configuration and Control
The DSC 401 and DSC 401 A scalers feature front panel controls for quick access to functions, as well as a USB port for convenient setup, configuration, and firmware updates. For flexible configuration and control, Extron offers a user-friendly software application. Product Configuration Software - PCS facilitates quick and easy system setup and operation. The DSC 401 A also provides built‑in Web pages, enabling use of a standard browser for device monitoring and troubleshooting over an intuitive Web interface.
DSC 401 and DSC 401 A Features

Front panel USB-C configuration port

LED indicators for signal and HDCP status

Front panel controls and on-screen display

HDCP 2.3 compliant

HDMI input and output support signals up to 4096x2160/60

Seamless presentation of signals sourced from upstream devices

Scaler Bypass Mode for unprocessed transmission of 3D, HDR, and other formats

Output Standby Mode when no active input signal is detected

HDMI audio embedding and de-embedding – DSC 401 A only

Logo image keying and display – DSC 401 A only

LAN/PoE port supports power and communication over a single cable – DSC 401 A only

CEC – Consumer Electronics Control capability – DSC 401 A only