Extron Announces New Digital Audio Matrix Processor
Public relations contact:
Joe da Silva, Vice President of Marketing
Extron
E-mail: pr@extron.com
Anaheim, California (December 3, 2009)
- Extron Electronics is pleased to announce the immediate availability of the new DMP 64, a 6x4 audio matrix mixer featuring Extron ProDSP™, a powerful digital signal processing platform for audio signal routing and control. The DMP 64 features six mono mic/line inputs, each of which can be mixed into any or all four mono line outputs. ProDSP is loaded with powerful tools to control level, dynamics, filters, delay, ducking, loudness, and feedback suppression. The DMP 64 is ideal for presentation applications that require advanced line and microphone audio matrix mixing with DSP in a small form factor.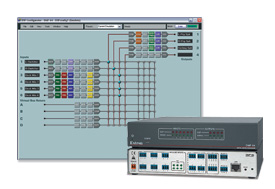 "For many applications, integrators need advanced control over signal routing, levels, and audio quality without resorting to complex DSP platforms," says Casey Hall, Vice President of Sales and Marketing for Extron. "The DMP 64 is a uniquely sized 6x4 audio matrix mixer combined with our ProDSP engine that provides a complete set of on-board processing tools like Automatic Gain Control and Feedback Suppression." Hall adds, "Our quick and intuitive DSP Configurator™ Software provides an easy-to-navigate workspace to route and apply signal processing."
Extron's exclusive ProDSP is engineered from the ground up using a powerful 32/64-bit floating point DSP engine and studio grade 24-bit audio converters with 48 kHz sampling. It is managed by Extron's intuitive DSP Configurator Software, a PC-based application featuring an easy-to-use GUI which allows for complete audio system visualization within a single window. Audio designers and system installers can access the power and flexibility of ProDSP by using this software for access to audio processing tools and audio matrix mixing from a single screen.
The DMP 64 features a dual matrix design. The primary matrix routes the six mic/line inputs to the four output line signals. With the secondary matrix, selected inputs are routed to four "virtual" buses. These buses are then routed into the four outputs via the primary matrix. The virtual buses add powerful versatility to the DMP 64, enabling designated inputs to be grouped and processed together as an ensemble. Audio processing tools, including Filter, Dynamics, Loudness, and Gain, are available on each virtual bus. This dual matrix design can easily be visualized within the DSP Configurator Software.