6x4 ProDSP Digital Matrix Processors
Six mic/line inputs and Four Line Outputs

Low latency DSP processing

Compact Half Rack Size
DMP 64
ProDSP Digital Matrix Processors
The Extron DMP 64 Digital Matrix Processor is a 6x4 audio mixer featuring Extron ProDSP™, a powerful digital signal processing platform for audio signal routing and control. The DMP 64 offers a configuration approach to DSP that simplifies mixing, routing, and room optimization. Quick and intuitive configuration using the DSP Configurator™ Software allows the DMP 64 to be installed in very little time, with easy-to-learn adjustments that can be heard in real-time. The DMP 64 is ideal for presentation applications that require advanced line and microphone audio matrix mixing with DSP in a small form factor.
ProDSP
Extron's exclusive ProDSP is engineered from the ground up using a powerful 64-bit floating point DSP engine to provide very wide dynamic range and reduce the potential for clipping. ProDSP also utilizes studio grade 24-bit audio converters with 48 kHz sampling to maintain audio signal transparency. ProDSP is loaded with powerful, easy-to-configure tools to control level, adaptive gain, automixing, dynamics, filters, delay, ducking, loudness, and feedback suppression.
Flexible Routing
The DMP 64 features six mono mic/line inputs with phantom power. These inputs can be matrixed mixed into any of the four output buses to create finely tuned audio zones for the corresponding outputs. In addition, the six inputs can also be routed to any of the four "virtual" buses to allow inputs to be processed together as a group, before routing back into the output buses. The flexible routing capabilities within the DMP 64 allow system designers to create various signal management schemes to accommodate a variety of sound system application requirements.
Versatile Control Options
The DMP 64 can conveniently be controlled and configured via RS-232 serial control, Ethernet control, or USB. It also includes digital I/O ports, which allow for external triggering such as mic activation and muting.
Rack-mountable

1U, half rack width metal enclosure

USB Configuration

Front mounted port for high speed access with DSP Configurator Software

Status LEDs

Signal presence and clip warning for ease of set up and operation

ProDSP

Full control of input & output levels plus a wide array of processing tools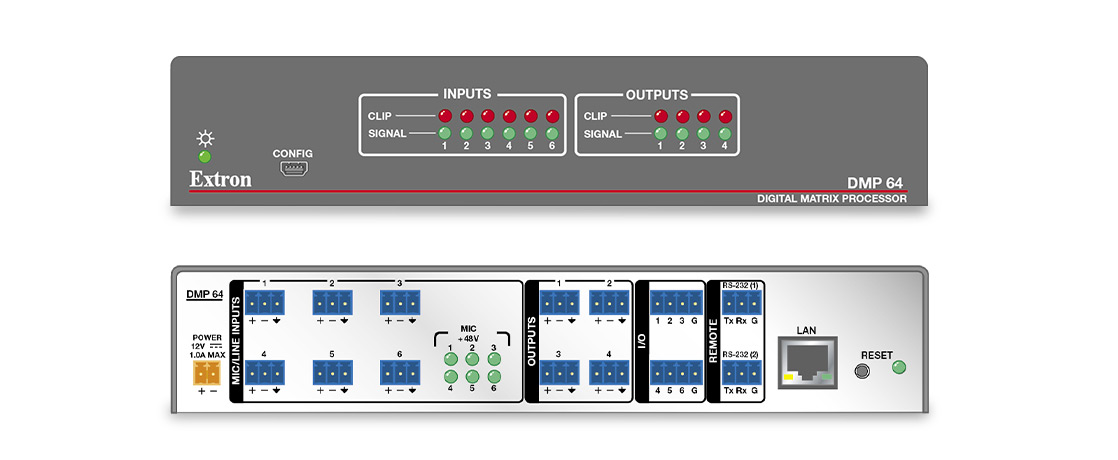 Six Mic/Line Inputs

Includes phantom power for ease of integration

Four Mono Line Outputs

Utilizes 24-bit D/A conversion with 48 kHz sampling

Digital I/O Ports

Configurable for remote triggering of presets and microphone mutes

Flexible Remote Control

Two RS-232 ports and LAN port for optimized control in any application
Diagram
In this executive conference room, the center of the AV system is a DMP 64. AV sources are switched with an IN1804 DO, which is controlled by a TLP Pro 725T touchpanel. Program audio from the DMP 64 is amplified by two channels of an XPA U 1004 SB while voice lift audio is handled by a bridged pair of amp channels providing a mono, low voltage signal to a set of SF 26CT ceiling speakers.