Flexible DSP for Dante Systems
48x24 Dante Connectivity

12 Channels of Acoustic Echo Cancellation

USB Audio Interface

Optional SIP 2.0 VoIP Support

Compact Half Rack Size
DMP 128 FlexPlus
Dante Digital Matrix Processors
The DMP 128 FlexPlus series of compact Dante Digital Matrix Processors features twelve FlexInput channels with full DSP, including AEC, and Dante connectivity, in only a half rack space. With an extensive mix matrix, a USB audio interface, and analog compatibility, the DMP 128 FlexPlus provides the ability to easily connect and route multiple types of source signals to accommodate diverse analog and digital system requirements. For collaboration applications, the V model includes up to eight VoIP lines. Featuring an ACP bus for audio control panels, an expansion port for bidirectional digital audio connection with a DTP CrossPoint or another DMP, eight audio file players, and configurable macros, the DMP 128 FlexPlus can be used anywhere from a collaboration space, to a large conference room.
FlexPlus - Ideal for Multiple Dante Sources
The Dante-enabled DMP 128 FlexPlus series is ideal for applications that utilize Dante ceiling microphone arrays and other Dante‑enabled devices. With network connectivity for up to 48 Dante sources and 24 Dante destinations, the DMP 128 FlexPlus, featuring a built‑in two‑port Gigabit switch, enables the creation of simplified, cost effective audio systems.

FlexInputs
All twelve main DSP channels of the DMP 128 FlexPlus offer FlexInput source selection to route any Dante input, expansion input, or one of the four mic/line inputs, to a main DSP channel. This enables the DMP 128 FlexPlus to process audio from any source with the full range of DSP capabilities, including AEC.
Dante Connectivity
The DMP 128 FlexPlus provides scalable Dante digital audio transport, with Dante Domain Manager support, over a local area network using standard network protocols. A DMP 128 FlexPlus can be configured to support primary and redundant Dante audio networks, as well as AES67 interoperability.
Acoustic Echo Cancellation
The DMP 128 FlexPlus series includes Extron AEC for conferencing applications. AEC is essential for effective remote room-to-room conversations, ensuring clear, natural communication for all participants. These models include twelve independent channels of high performance AEC, as well as selectable noise cancellation. AEC processing can be challenged by conditions such as double-talk, when talkers from both ends are speaking simultaneously, and when near end talkers use wireless microphones. Extron AEC features advanced algorithms that deliver fast echo canceler convergence for optimal intelligibility, even in challenging conditions.
The DSP Configurator Software simplifies AEC and noise cancellation setup with a user-friendly interface that provides real-time metering for ERL - Echo Return Loss, ERLE - Echo Return Loss Enhancement, and TER - Total Echo Reduction levels. Guided alerts appear whenever ERL is outside of the optimal range for echo cancellation and DSP templates serve as starting points with routing optimized for AEC workflows. Optional settings include fine adjustments for NLP - Non-Linear Processing to maximize AEC performance in acoustic environments with significant sonic reflections or reverberation.
VoIP - Voice over Internet Protocol Capability
The DMP 128 FlexPlus C V AT includes up to eight SIP 2.0 VoIP lines, with wideband codec support, that can be configured as individual extensions or with multiple call appearance channels to support local conferencing applications. Compatible with select VoIP systems, any single V model of the DMP 128 FlexPlus series can be used for a single VoIP line or as a VoIP farm for up to eight rooms.
USB Audio Interface
The included USB audio interface provides connectivity to a computer for use with soft CODEC applications and computer sourced audio.
Front to Back Ventilation

Allows side by side and above or below rack mounting of other devices

Twelve FlexInput Channels

With full DSP, including AEC, filters, dynamics, automixing, delay, and ducking

Compact Half Rack Size

Requires less rack space or easily fits under a table

60x32 Total Inputs and Outputs

Via Dante, expansion bus, analog, USB, and VoIP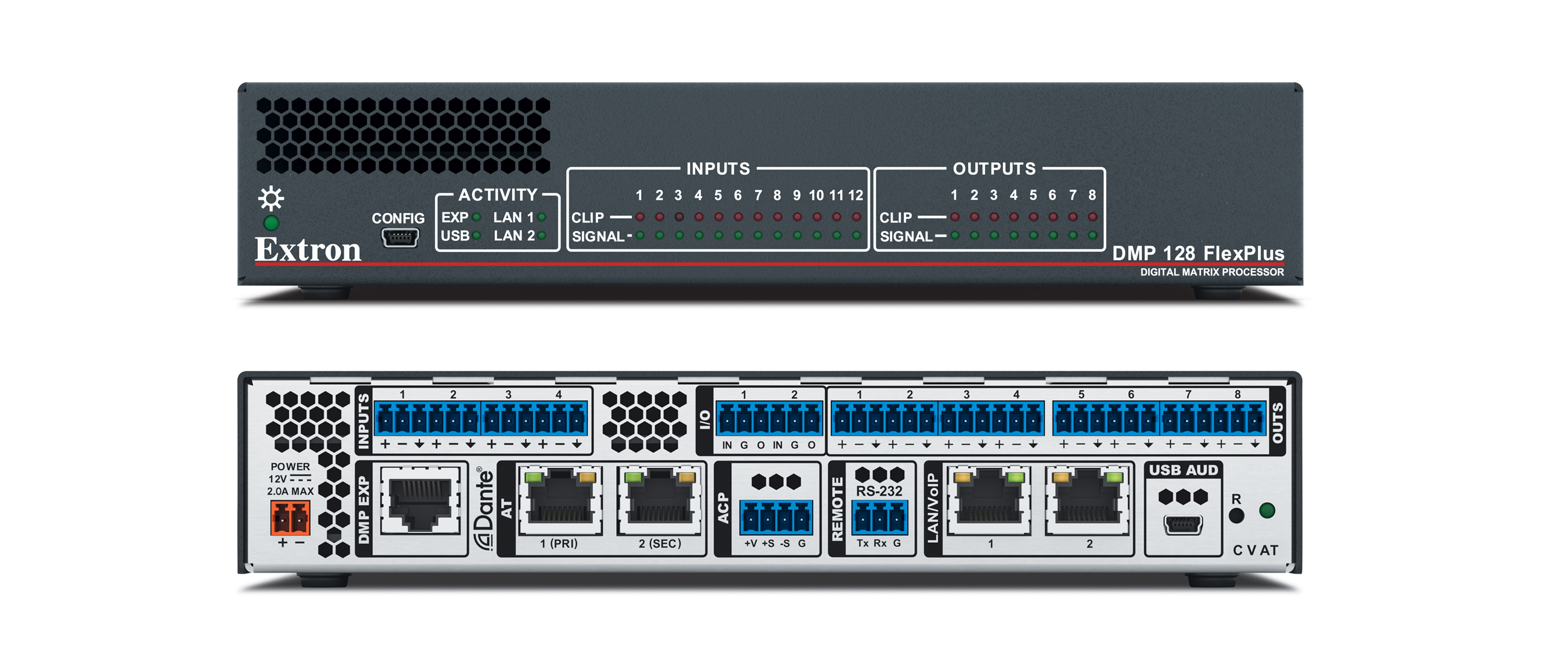 Digital I/O Ports

Provides for external triggering such as microphone activation and muting

Analog Audio Connectivity

Four inputs and eight outputs for connection to legacy analog devices

Expansion Port

Provides a bidirectional digital audio connection with another DMP or a DTP CrossPoint

48x24 Dante Audio Networking

Includes Dante Domain Manager and AES67 support

ACP Bus

Connects to the ACP Series of audio control panels to provide control of volume and preset/macro recall

Control System Connectivity

Externally control DSP functions via RS-232 or network connection

VoIP Support

Up to eight VoIP lines that support generic Session Initiation Protocol SIP 2.0

USB Audio Interface

Provides digital connection to computer based conferencing codecs or audio recording/playback
Conference Room Application with Dante Microphone Array and VoIP
In this fully loaded flexible conference room, audio processing is handled by the DMP 128 FlexPlus C V AT while AV matrix switching is performed by a DTP CrossPoint. Twelve microphone channels from an eight‑channel ceiling mic array and four desktop mics are connected via Dante to the DMP 128 Flex Plus C V AT, where they receive all processing necessary for conferencing, including AEC on all twelve channels. Depending on need, the user can switch between a soft conferencing codec and a dedicated VoIP server. The entire system is network controlled from an Extron TLP Pro 1025T Touchpanel. High performance mix minus audio playback is provided by the eight‑channel, half rack XPA U 358 power amplifier directly feeding SF 26CT two-way ceiling speakers.