DMP 128 Series
12x8 Audio Digital Signal Processors with Acoustic Echo Cancellation and Dante Audio Networking
The Extron DMP 128 Series are 12x8 audio digital signal processors featuring Extron ProDSP™, automixing, AEC - acoustic echo cancellation, and I/O expansion capabilities including Dante™ audio networking. DMP 128 AT models also include FlexInputs to provide the additional capability of processing Dante channels from remote wireless microphones, wallplates, and other sources anywhere on the Dante network, in place of local mic/line inputs. The DMP 128 Series offers a configuration approach to DSP that simplifies mixing, routing, conferencing, and room optimization. Quick and intuitive configuration using the DSP Configurator™ Software allows the DMP 128 Series to be installed in very little time, with easy-to-learn adjustments that can be heard in real-time. The DMP 128 is ideal for presentation and conferencing applications in boardrooms, courtrooms, and conference centers that require advanced matrix mixing with DSP.
All models in the DMP 128 product family are immediately available. The DMP 128 C P and DMP 128 C P AT are the newest models shipping, and feature POTS - analog telephone interface capability for connection to an analog phone line and handset.
Key Features
Six models with 12 mic/line inputs and 8 outputs
Models available with AEC, Dante, and POTS
Eight channels of AEC - acoustic echo cancellation
Analog phone interfacing with POTS line and handset connections
Eight inputs with FlexInput capability to select between analog or Dante inputs - DMP 128 AT models
Dante audio networking provides a wide range of expansion capabilities
Digital audio expansion port for linking two DMP 128 units
Automixer with eight groups
ProDSP 32/64-bit floating point signal processing
Studio grade 24-bit/48 kHz analog-to-digital and digital-to-analog converters
Low latency DSP processing
DSP Configurator Software
Intuitive Graphical User Environment
Building Blocks processor templates
20 digital I/O ports for remote control or feedback
Dante Audio Networking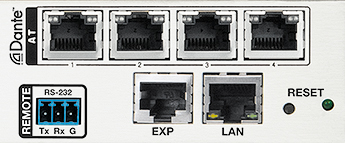 Dante technology from Audinate provides high performance digital audio distribution over standard local area networks. Dante allows high resolution audio channels to be transported uncompressed across a switched Ethernet data network using standard TCP/IP protocols, while meeting the stringent quality requirements of professional audio. With Dante, DMP 128 AT processors and AXP Series audio expansion processors can share multiple channels of high resolution digital audio with each other over a local area network. A DMP 128 AT can also be directly linked to other processors using the built-in four port Gigabit Ethernet switch, through standard network hardware including switches, or by connecting into a network infrastructure.
DMP 128 AT Input and Output Expansion Using Dante

Input and output channel expansion is necessary when the needs of the system go beyond the capabilities of a single DMP 128. Remote placement of these I/Os simplifies system infrastructure by utilizing Dante network capabilities. The AXP Series is a true system expander for Dante-based DMP 128 audio systems, with capability beyond a simple break-in box, digital snake, or break-out box. The built-in DSP processing, coupled with the capabilities and flexibility of Dante, create a powerful distributed approach to adding microphones to a system or for routing source audio to systems in various rooms. Traditionally, expanding a system requires that each input or output channel be matched with DSP at the rack. This often necessitates the addition of one or more processors to the system, with only partial utilization of their I/O and DSP capacity.
A sound system designer can incorporate several AXP 50 C AT or AXP 64 C AT audio expansion processors to create a large mixing matrix with up to 56 remote inputs and 24 outputs per DMP 128 AT. This greatly simplifies scalability and the audio cabling infrastructure. In addition to using the Dante network, multiple AXP Series and DMP 128 AT units can be linked over their integrated four-port Gigabit switches.
POTS Analog Telephone Capability
DMP 128 C P and DMP 128 C P AT models provide the ability to answer and initiate telephone calls to remote participants in a conferencing session. Two RJ-11 ports allow connection to a POTS line and a telephone handset. DMP 128 P models can be used over the PSTN - public switched telephone network and in a PBX - private branch exchange, and comply with all applicable US and international standards. The DSP Configurator Software facilitates quick and intuitive telephone setup, and includes a convenient phone dialer interface for setup and testing.
The DMP 128 is adept at handling complex configurations with powerful signal processing tools. It has provided us with a huge degree of flexibility when designing and installing audio systems in single and multi-room environments.

Eclipse Audio Visual
Stephen Bell - Technical Director Read more