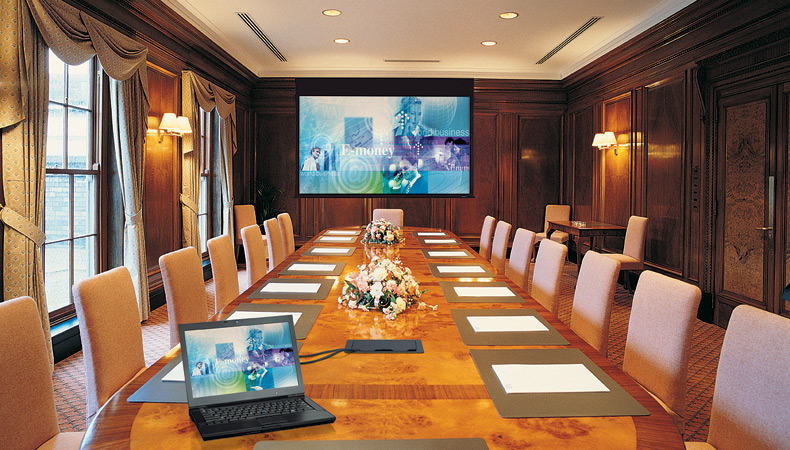 Digital Upgrade to Existing Analog System
Overview
This solution is designed to upgrade an existing high-end conference room installed several years earlier. This highly desirable space features custom millwork that will not be replaced during this system transition. The upgrade must have minimal impact on existing room aesthetics, yet provide the modern digital connectivity and support for higher resolutions required for current and future applications.
Most of the original equipment configuration will remain intact. The existing screen surface will be replaced to accommodate a new 16x9 aspect ratio screen surface. Millwork modifications are already underway to accommodate this new form factor.
Room Needs Assessment
Source Connectivity
The conference table-mounted Extron Cable Cubby will be upgraded to include HDMI input capability.
New Sources
New sources will include: one local desktop PC with DVI output, one Extron AVT 200HD Cable TV HD Tuner with HDMI output for viewing news and information channels, and one Blu-ray Disc player for viewing training materials. All of these sources will be viewable locally within the room.
Audio Requirements
The system will operate as previously implemented. As with the existing sources, the four new sources will be audible via the program speakers.
Functional Requirements
All sources can be viewed locally. Sources to be sent to the far end during a videoconference will include only the existing analog PC or analog document camera. The existing codec only accepts analog sources and is not being upgraded at this time.
Analog or digital sources may be viewed during local presentations or during a conference. During a local presentation, a source may be selected for viewing from a list of available options on the existing touchpanel. During an audioconference, a local source may be viewed along with audio supplied from the far end. During a videoconference, the farend camera or far-end source will always be shown on the display. Audio from both the far-end and nearend sources will be heard locally.
System Design Solution
Display System
One 119 inch (3 meter) diagonal, 16x9 aspect ratio, rear projection screen surface will replace the existing 100 inch (2.5 meter) diagonal 4x3 screen surface. The new screen will be mounted at the same height AFF - Above Finished Floor as the original. The new visible screen size is approximately 58 inches (147 cm) high by 108 inches (2.7 meters) wide.
Also, a new single-chip DLP® projector with a 1920x1080 native resolution will be used with a modified rear projection mirror assembly. The projector features several digital inputs using both HDMI and DVI connectors.
Cameras
The existing camera system will be retained without modification.
Matrix Switching and Signal Management
The Extron SW4 HDMI Four Input Switcher will function as the digital heart of the system. HDMI input sources, whose source material or hardware requires the management of HDCP, will be switched alongside non-HDCP input sources. This configuration will provide efficient digital source selection, distribution, and image control for the display system. The existing Extron CrossPoint Ultra 84 HVA Ultra- Wideband Matrix Switcher will be retained for use with the existing analog sources.
Signal Distribution
Extron DTP HDMI 301 Twisted Pair Transmitters and Receivers will be paired to extend HDMI video signals over shielded CAT 5e cables. This standardized and easily accessible infrastructure will provide the most effective method of conserving conduit space while preserving the integrity of the digital signals over considerable distances. The HDMI input at the table and the signal distribution to the displays will use this common cabling infrastructure. The DTP HDMI 301 supports DDC and HDCP which will provide reliable long distance HDMI signal distribution. The analog video and PC sources from the existing system will be scaled and converted to DVI using an Extron DVS 304 DVI Video and RGB Scaler.
Audio System
An Extron HAE 100 Audio De-Embedder has been placed at the output of the SW4 HDMI LC and will be used to extract audio from the HDMI output signal. Local audio signals from the existing analog and the new digital sources will be managed via the existing DSP-based audio system.