Dante Domain Manager
Enterprise network environments often require security and logical segmenting which can make the implementation of an AV over IP solution challenging. Similarly, it can be desirable to protect AV routing, and other settings, from being changed by unauthorized users.
Dante Domain Manager (DDM) from Audinate is network management software that provides solutions to these challenges. DDM enables user authentication, role-based security, and seamless expansion of Dante systems over any network infrastructure.
---
---
Complete Network Management for Dante Systems
Assign user-specific roles for defined devices, enabling independent control of each zone or location
Create and manage independent Dante domains
Dante domains can encompass multiple network subnets
System status dashboard
Time-stamped audit reports of all changes
Remote email alerts
Secure Encrypted Administration and Device Configuration
DDM-Enabled Products from Extron
Extron offers a full lineup of audio over IP products, using the Dante protocol, that allows AV integrators to include audio networking technology into a variety of applications. Extron Dante products deliver reliable performance and flexibility in the distribution of audio signals, with many additional integrator-friendly features to meet your audio system needs.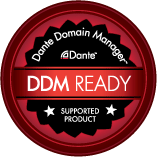 For system designs requiring the enterprise level security and network management provided by DDM, these Dante-enabled Extron products support DDM: