New Edition of Extron Digital Design Guide for Professional AV Systems Now Available
Public relations contact:
Joe da Silva, Vice President of Marketing
Extron
E-mail: pr@extron.com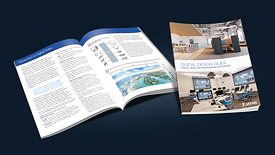 Anaheim, California (August 28, 2023) - Extron is delighted to unveil the fourth edition of its acclaimed Digital Design Guide. This quintessential handbook dives deep into the nuances of contemporary digital video formats and breakthrough technologies. Beyond presenting the fundamentals of digital design principles, it delineates systematic strategies for addressing the myriad challenges in AV design. These can range from the reliable transmission of digital video over extended distances to the efficient management of EDID and HDCP throughout a networked system. This edition is enriched with a plethora of detailed system examples spanning diverse applications, making it that much easier to accommodate 4K and even 8K technologies. For AV professionals seeking to design and spearhead resilient, top-tier AV systems that become a pivotal element of an organization's operational framework, this guide is an indispensable companion.
"Keeping up with the ever-evolving AV industry through multiple major technological transitions is a challenge for every AV professional," says Casey Hall, Chief Marketing Officer at Extron. "If you're planning to design, build, or upgrade today's and tomorrow's applications, our Digital Systems Design Guide is a must read resource."
The Revised Digital Design Guide Features Up-to-Date Information on:
The latest professional AV applications with detailed design examples for Corporate, Education, Esports, Healthcare, House of Worship, Control Room, and much more
The inner workings of the newest video formats and standards for HDMI 2.1, DisplayPort 2.1, USB-C, and 8K
Tips andadvice on integrating Extron products into professional AV systems that customers will love, including:
- NAV Pro AV over IP
- Signal switching and distribution with FOX, XTP, and DTP
- Digital video scaling and processing across multiple product family lines
To download your copy of the fourth edition of the Digital Systems Design Guide, click here.