Extron Releases Free Data Logger Application For Collecting Facility-Wide AV System Usage Data
Public relations contact:
Joe da Silva, Vice President of Marketing
Extron
E-mail: pr@extron.com
Anaheim, California (October 26, 2005)
- Extron Electronics is pleased to introduce
Data Logger
, a free AV resource management tool for collecting critical AV system statistics for data analysis.
Data Logger
is a customized Microsoft ® Excel® spreadsheet application that allows administrators to automatically gather up-to-date lamp hour and usage statistics for AV equipment located facility-wide.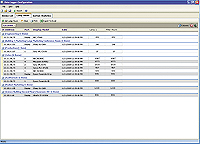 Click
here
to download the high resolution image
Data Logger
works in conjunction with the
Extron MLC 104 IP
and
MLC 226 IP
MediaLink® controllers that feature IP Link® technology to collect critical system information such as frequency of usage for each front panel button and current lamp hours of connected projectors. Administrators can use
Data Logger
to determine exactly how often each AV resource has been used in a given range of time. This information can be invaluable for scheduling classroom usage and for planning future equipment purchases. Data can be collected periodically and archived as a file, allowing resource usage and lamp hour consumption to be monitored over time. "Imagine being able to gather up-to-date lamp hour and usage statistics for all of your installed projectors and AV equipment into a single report that can be used to better assess resource usage," says Lee Dodson, vice president of marketing for Extron. "
Data Logger
is ideal for schools, universities, hospitals, and other organizations that need to manage a large number of presentation systems."