Extron Now Shipping New High Performance HDMI Distribution Amplifier for 4K Video
Public relations contact:
Joe da Silva, Vice President of Marketing
Extron
E-mail: pr@extron.com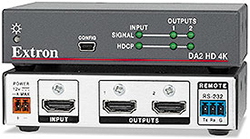 Anaheim, California (October 27, 2015) - Extron Electronics is pleased to announce the immediate availability of the DA2 HD 4K, a one input, two output HDMI distribution amplifier designed specifically to support today's 4K applications. It provides distribution of computer and video resolutions up to 4096x2160, including 1080p/60 with Deep Color. This distribution amplifier is HDCP compliant, and supports data rates up to 10.2 Gbps, 3D, Lip Sync, and HD lossless audio formats. Automatic input cable equalization ensures 4K signal integrity up to 50 feet when used with Extron HDMI Pro Series cables. To streamline integration and operation, features include automatic color bit depth management, selectable output muting, and Extron technologies for EDID and HDCP management. The DA2 HD 4K is ideal for applications that require the distribution of a 4K HDMI source signal to two displays.
"The newest addition to our growing line of 4K products fills the need for a reliable, high performance HDMI distribution amplifier and offers a host of integrator-friendly features," says Casey Hall, Vice President of Sales and Marketing for Extron. "The DA2 HD 4K not only actively splits a 4K HDMI signal, it also manages the communication between the source and the displays."
Several Extron technologies included with the DA2 HD 4K distribution amplifier simplify integration of HDMI-enabled devices. EDID Minder automatically manages EDID by maintaining continuous EDID communication with each source, ensuring that sources power up properly and reliably output content for display. For HDMI signals with protected content, Key Minder authenticates and maintains continuous HDCP encryption to support reliable transmission while enabling simultaneous distribution of a single source signal to two displays. It also provides +5 VDC, 250 mA on each output for powering peripheral devices, such as an Extron UHD4K 101 or HDMI 101 Plus cable equalizer.
For more information on the DA2 HD 4K, please visit: www.extron.com/da2hd4kpr