Extron Announces Contact Closure Control Module for Switchers
Public relations contact:
Joe da Silva, Vice President of Marketing
Extron
E-mail: pr@extron.com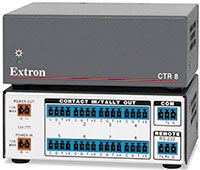 Anaheim, California (November 21, 2013) - Extron Electronics is pleased to introduce the CTR 8, a control module that adds contact closure control to most RS-232 controllable Extron simple or scaling switchers. The CTR 8 accepts up to eight contact closure inputs and converts them to SIS Simple Instruction Set serial commands that select the corresponding input on an Extron switcher. Video can be muted and un-muted by pressing a single switch in sequence, allowing the user to control the viewing of the presentation. Each contact closure input features a +5 VDC output that can be used to light an LED to indicate the active switch. The CTR 8 is ideal for applications in which contact closure control must be added to an Extron switcher.
"As AV presentation systems are deployed in an ever broader range of applications, the need for an intuitive, training-free user interface has become increasingly important to AV system designers," says Casey Hall, Vice President of Sales and Marketing for Extron. "The CTR 8 control module provides system designers and AV integrators with a simple yet powerful tool to optimize the user experience with almost any Extron simple or scaling switcher."
The CTR 8 offers integrator-friendly features including an RS-232 serial port, a +12 VDC power loop-out port, selectable video mute LED options, and a compact form factor. The RS-232 serial port allows monitoring and troubleshooting from a remote location. To streamline installation, a +12 VDC power loop-out port allows sharing of external power with another Extron product. The CTR 8 is housed in a compact 1U, quarter rack width metal enclosure. It ships with the Extron MBU 123 low-profile mount kit for installation under tables and lecterns, or for mounting behind displays.
For more information on the CTR 8, please visit: www.extron.com/ctr8pr