Student Project at Kutztown University Has Amazon Alexa Talking to Extron Classroom AV Systems
Public relations contact:
Joe da Silva, Vice President of Marketing
Extron
E-mail: pr@extron.com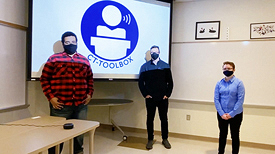 Anaheim, California (November 11, 2021) - Three Kutztown University of Pennsylvania computer science and information technology students and their faculty advisors recently completed a project which interfaces Amazon Alexa with Extron control to allow voice control of the college's Extron classroom AV systems. The project, dubbed CT-Toolbox, was designed to create ADA compliant AV systems that are accessible for all students. CT-Toolbox implements the voice control process with two software services: Alexa Skill running in the Amazon AWS cloud, and the CT-Toolbox Client running on an Extron Control Processor. At completion of their senior project, the CT-Toolbox team performed a live demo. They proved the feasibility of hands-free voice control of the school's standard classroom AV systems. The project earned a passing grade and the students went on to graduate to new careers in industry.
According to the members of the CT-Toolbox student team, "Our success in completing the CT-Toolbox project is partly attributable to our Computer Science and Information Technology core courses. The user-friendliness of Extron Global Scripter and Alexa Skills Kit were a big help, as was the patient support provided by our advisors, including Extron."
The University has 235 rooms equipped with AV systems consisting of a podium containing a desktop PC with a local monitor and an Extron IN1608 xi IPCP Eight Input Scaling Presentation Switcher with integrated control processor. The CT-Toolbox client software runs on this control processor. When a request is spoken into an Echo™ device, Alexa Skill translates speech to JavaScript Object Notation data that is parsed by skill application code, called a Lambda Function, into parts needed to trigger desired hardware actions. The Lambda Function compares the speech to a stored set of specific words that indicate "intent". The Lambda function delivers parsed commands from the cloud to the CT-Toolbox client. The client tells the control processor to output the required hardware commands to applicable AV devices. The process is reversed to translate status from the devices into spoken confirmations.
To read the full Kutztown University case study and watch the student demo video, click here.