CrossPoint Ultra
A New Standard in Matrix Switcher Design and Performance
CrossPoint® Ultra ultra-wideband matrix switchers are designed to deliver uncompromised performance for the most demanding, high resolution computer-video and stereo audio routing systems. CrossPoint Ultra sets a new standard of engineering in all critical measures of matrix switcher performance, including an amazing 600 MHz bandwidth, ultra-flat frequency response, best-in-class efficiency, reliability, power consumption, and control. CrossPoint Ultra is available in twelve models and six I/O sizes from 8x4 to 16x16 and is ideal for complex AV routing applications that require efficient, reliable operation at the highest computer-video resolutions.
Key Features
Ultra-wideband performance:

8x4, 8x8, and 12x8: 600 MHz (-3dB), fully loaded
12x12, 16x8, and 16x16: 525 MHz (-3dB), fully loaded

Ultra-flat frequency response: ±0.5 dB from 0 to 130 MHz or better
Ultra-low crosstalk: -56 dB or better @ 100 MHz
Ultra-low power consumption: 30 watts at 120 VAC, full load
Ultra-efficient power supply: Silent, fan-free enclosure
Ultra-reliable architecture: 5th Generation Extron design
Ultra-flexible control: Front panel, serial, and IP Link Ethernet
Ultra-wideband, Ultra-flat Performance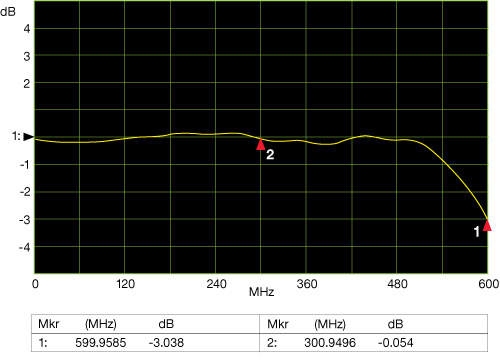 With Ultra-wide bandwidth, Ultra-low crosstalk, and Ultra-flat frequency response, CrossPoint Ultra matrix switchers are virtually transparent to the signal path.
Learn More
CrossPoint Ultra Series
Visit the product pages for complete information and downloads: