Making Choices: Control System Size and Scope
Competing Demands in System Design
Competing Demands in System Design
Proper design is a balancing act. Designers must evaluate the goals and needs of the client and weigh them against the client's budgetary constraints. Many clients come with ambitious expectations and leave it up to the designer to help bring their vision in line with their budget. It is important to work with the client, determine their goals, and manage their expectations in order to achieve success when the project is complete.
Budget Demands — Most Cost-Effective Solution
Some clients know they have a low budget and are fine with that. They still want the best solution for their dollar, but they are aware of the limitations. The next step for the designer would be to prioritize where the money in the project needs to go and to develop a value-based solution around those priorities.
Best Design Demands — Best Feature-Rich Functional Solution
The 'Best Design' scenario is at the opposite end of the spectrum. Clients in this area are looking for the highest quality, most aesthetically pleasing design, with the most functionality. This type of project is the designer's dream, and allows them to address all of the client's goals and needs and provide the best solution regardless of the related cost.
Aesthetic Demands — The Best-Looking Solution
Occasionally, clients will want to pay particular attention to the aesthetics of the design. While the functional demands are still a concern, the client may want the visible components and the user interfaces to seamlessly blend with the environment or to have a particularly high tech feel. The CEO of the company may want a 10" touchpanel on his boardroom table and will not settle for a 7" touchpanel despite the budgetary savings.
Reliability Demands — Lowest Maintenance, Most Reliable Solution
Some projects involving critical operations systems, give great importance to the serviceability and reliability of the system. Examples of these are military and Network Operations Centers - NOCs. If systems fail for whatever reason, they need to be brought back online with minimal effort in the shortest time possible. Typically, these clients understand that these systems cost more and have budgeted accordingly.
Bringing Balance to All Your Demands
Ultimately, effective design relies on effective communication with the client and the determination of the client's goals and needs for the system.
When to use MediaLink® Controllers or TouchLink® Touchpanels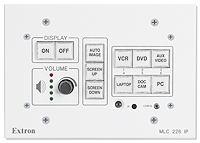 The design of an AV control system is largely driven by the needs of the user and the number of components that require control. MediaLink® controllers are ideal for single-display systems with a limited number of sources. They offer simplified control through an easy to operate interface, thanks to their fixed arrangements of well-labeled buttons.
Controllers like the MLC 62 RS are designed for smaller rooms with one display and only two to four sources. It functions well as a replacement for a display's handheld IR remote, providing userfriendly control for power, volume, and input selection. For rooms with a few more sources, both the MLC 104 IP Plus and the MLC 226 IP should be considered. They are designed to control a wide range of smaller AV systems and provide support for a switcher. In addition, they include network connectivity for Web-based remote diagnostics, AV resource management, and support.
When a system either exceeds the number of buttons or number of control ports on the MediaLink controller, it becomes clear that you need to consider a touchpanel with a control processor. While there are a few ways to try to force the MediaLink controller to control a larger room or multiple rooms, at this point, it could become counterintuitive for your end user, and you begin to defeat the initial purpose of installing a control system.
As the number of devices we need to control increases, and as the complexity of the system increases, it becomes more prudent to deploy a control system consisting of a TouchLink Touchpanel and an IP Link control processor. The IPL 250 paired with a TLP 350 offers a cost-effective solution to systems of moderate complexity. As system requirements increase, more advanced central controllers and TouchLink Touchpanels with a larger screen size help bridge the system's potential and overall capabilities while still maintaining the same ease of configuration.
TouchLink Touchpanel Capabilities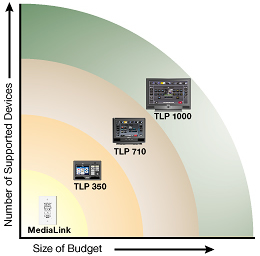 Controllers versus Touchpanels
Deciding whether to use a controller or a touchpanel comes down to two basic questions:
What is the best location for the control interface?
What does the client want to accomplish from that location?
Button panels are ideal for applications that have limited functionality and that require more cost-effective solutions. An example of this would be for room entry locations that require basic functionality, such as lighting and shade controls.
Touchpanels are ideal for applications that require more functionality, or a more aesthetically pleasing control interface. This choice, of course, also ties closely into the system budget. Touchpanels are also ideal for larger systems that require interactive feedback from the control system. Effective use of graphics on the touchpanel can be used for corporate branding and added aesthetic appeal.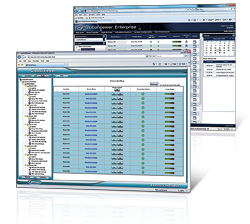 How to Determine the Right Touchpanel Size
Like most components in the control system, the size of a touchpanel is driven by functionality, budget, and aesthetics. To many people, bigger is better. But depending on the location of the panel, a smaller panel may look better and be easier to use within the environment. Placing a large touchpanel on a small lectern may not leave any room for the presenter's laptop and/or notes. However, selecting a small touchpanel based solely on budgetary constraints may make GUI navigation difficult and frustrating, diminishing the client's satisfaction.
Network Connectivity for Web Control
Web-based resource management, such as that found with Extron's Free GlobalViewer and GlobalViewer Enterprise provides a powerful, flexible way to manage, monitor, and control both Extron and third-party equipment like projectors, displays, monitors, VCRs, DVD players, and other devices using a standard TCP/IP network.
Web control applications require coordination and interaction with the corporate IT department to ensure access across the network. The IT department should be involved early in the design process to ensure buy-in and to foster a cooperative atmosphere.
Download the story – High Res PDF
0.5 MB