Extron Introduces New Online Interactive Connectivity Configurator
Public relations contact:
Joe da Silva, Vice President of Marketing
Extron
E-mail: pr@extron.com
Anaheim, California (May 10, 2005)
- Extron Electronics announces the introduction of its new Connectivity Configurator, an interactive online tool for designing custom architectural connector solutions for AV systems. The Connectivity Configurator presents an up-to-the-minute list of every Extron Architectural Adapter Plate (AAP) currently available. With this intuitive interface users can sort through dozens of AAPs by signal or connector type, drag-and-drop AAPs into place, change colors on the fly, and print a summary and an image of each individual configuration. All the components of each configuration can then be ordered using a simple three-step process (requires Extron Dealer Web site login). The Extron Connectivity Configurator is available now at
www.extron.com
.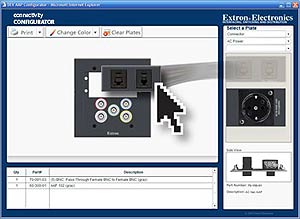 Click here for high resolution image
"Extron's new Connectivity Configurator is a time-saving and easy-to-use tool for system integrators and designers," says Lee Dodson, vice president of marketing for Extron. "It's great for creating exact connector layouts and detailed component listings of each configuration for use in customer proposals and documentation." Extron AAPs provide pass-through connectors and control modules on mountable metal plates for easy access. These interchangeable components fit together to create an attractive and completely customizable connectivity solution. Extron offers a wide selection of AAPs with audio, video, phone, data, power, and control connectors, along with mounting options for maximum flexibility in placing connectors and controls within reach. The Extron Connectivity Configurator can be launched by clicking on the Configurator icon on an AAP mounting frame, HSA 400, or HSA 402 product page on the Extron Web site. To learn more about the new Extron Connectivity Configurator and to try it out, please visit
http://www.extron.com/aapconfigurator
and click on one of the products listed.