Extron TLP Pro 1025T Recognized as BEST for Commercial Integrators
Public relations contact:
Joe da Silva, Vice President of Marketing
Extron
E-mail: pr@extron.com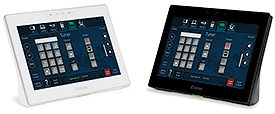 Anaheim, California (June 8, 2018) - Extron is proud to announce that the TLP Pro 1025T 10" TouchLink Pro Touchpanel won the Commercial Integrator BEST Award in the Control and Automation category. The Commercial Integrator BEST Awards program recognizes the most outstanding new solutions based on innovation, functionality, competitive advantages, and benefits to the integrator and installer.
"We're extremely pleased that the TLP Pro 1025T has been recognized as one of the BEST Pro AV products of 2018," says Casey Hall, Vice President of Worldwide Sales and Marketing for Extron. "This touchpanel, delivering significant enhancements in both performance and style, is built for today with an eye on the future and is one further example of how we are committed to providing innovative solutions for our customers."
The TLP Pro 1025T is our latest touchpanel featuring a high-performance quad-core processor, eight times more memory, a higher resolution, 1280x800 capacitive touchscreen built with scratch and smudge-resistant Corning® Gorilla Glass®, a distinctive enclosure with a sleek, gracefully-sweeping back. This touchpanel also offers the convenience of PoE - Power over Ethernet. With its improved graphics engine and processor, and increased RAM, you'll see faster background graphic loads and crisper page flips. These performance enhancements offer an enhanced user experience now, while providing ample memory and processing power to support exciting new features and capabilities in the future via firmware updates.
For more information about the TLP Pro 1025T, click here.