Extron Expands Presence in China with New Office, Catalog, and Web Site in Chinese Language
Public relations contact:
Joe da Silva, Vice President of Marketing
Extron
E-mail: pr@extron.com
Anaheim, California (28 June 2007)
- Extron Electronics is expanding its presence in China with the opening of a new office in Shanghai. It has also published a new catalog and Web site in Mandarin Chinese.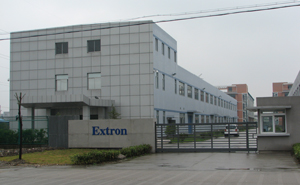 Click here to download high resolution image
"As China's AV industry continues to grow, we welcome the opportunity to provide our products and services to Chinese customers," says Lee Dodson, Executive Vice President of Marketing for Extron. "Our new office, Chinese catalog, Web site, and presence at Chinese trade shows demonstrate our commitment to expanding our service and support in the country."
The office in China offers customer service, sales support, applications engineering, training, AV system design assistance, and product demonstrations. The Chinese edition of the 2007 Extron Product Catalog contains more than 300 pages of the latest information on Extron's interfacing, switching, distribution, signal processing, fiber optics, cabling solutions, audio, and Ethernet control products. The Chinese catalog and the new Web site were officially released at Integrated Systems China, April 25-27 in Beijing.

The address of the new office is:
Extron China
686 Ronghua Road, Songjiang District
Shanghai 201611 China
Phone: +86.21.3760.1568
Fax: +86.21.3760.1566

Support staff in the China office includes Kevin Woo, Senior Sales Manager, Candor Ma, Application Engineer, and Lisa Hu, Sales Support Specialist. For pricing and availability, contact an Extron Customer Support Representative at +65.6383.4400 or +400.883.1568 (inside Asia only).