Extron Introduces Updated Chinese Product Catalog and Web Site
Public relations contact:
Joe da Silva, Vice President of Marketing
Extron
E-mail: pr@extron.com
Anaheim, California (19 November 2008)
- Extron Electronics is pleased to announce that an updated Chinese-language Product Catalog and Web site,
www.extron.cn
, are now available.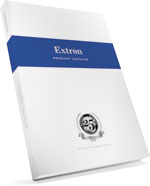 Chinese Product Catalog
Click here to download
high resolution image
"As the AV industry flourishes in China, Extron will continue to provide localized content and collateral to streamline AV solutions in this region," says Lee Dodson, Extron Vice President of Marketing. "Our Chinese catalog and Web site help to achieve this goal"
The Web site contains the latest products, which are organized in user-friendly categories that allow site visitors to navigate quickly and locate the products or AV solutions that fit their specific needs. The Web site will undergo constant updating as new products, application profiles, articles, and tools are released.
The Extron Product Catalog in Chinese contains 470 pages of the latest information on Extron's interfacing, switching, distribution, signal processing, fiber optics, cabling solutions, audio, and Ethernet control products. To obtain a copy of the Extron Product Catalog in Chinese, please contact an Extron Customer Support Representative at +65.6383.4400 or +400.883.1568 (inside China only).