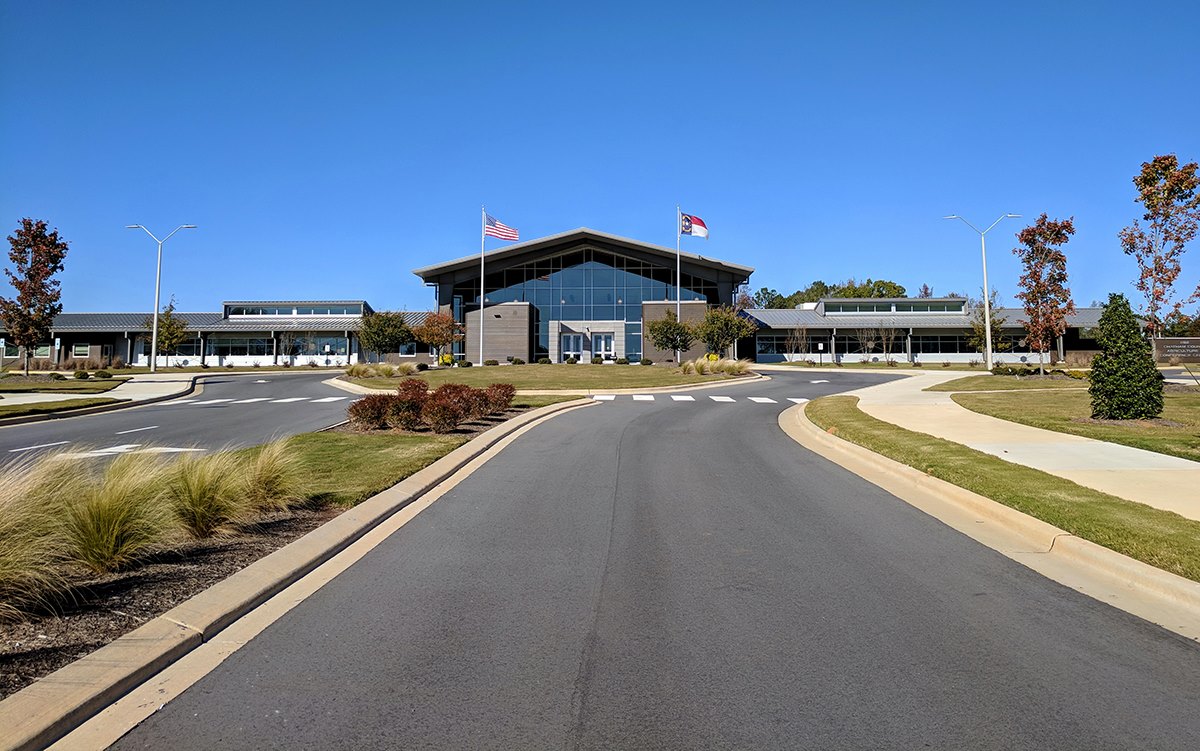 Extron XTP and Programmable Control Empower Smart AV at Chatham County Conference Center
We love using Extron products. The XTP matrix switcher is rock solid and was easy to set up and configure. Also, the TouchLink Pro touchpanels and Global Scripter made automating system control for Chatham County a straightforward process.

Chris Ferris, Design Engineer, Strategic Connections Inc.
Challenges
Chatham County wanted a high-performance AV system with intuitive control for their new Chatham County Agriculture and Conference Center – CCACC. Situated on the outskirts of Pittsboro, North Carolina, the center houses the county offices for the farm bureau, natural resources, and forestry service. It is also one of the county's largest flexible conference venues for hosting both public and private events.
The approximately 8,000 square feet (743 square meters) CCACC would include two divisible spaces: an exhibit hall and a conference area. Using airwalls, the exhibit hall had to be configurable into three spaces and the conference area be split into four meeting rooms of equal size.
Retracting airwalls would be auto-configurable, with built-in awareness capabilities. At the press of a button, the AV system would need to detect the position of each airwall, identify and assign sources and displays available by space, and adjust AV capabilities to predetermined configurations. The AV system would need to support each space configuration and room requirements from a central location.
Complete Extron Solution
Integrator Strategic Connections Inc. – SCI of Raleigh, North Carolina, was brought in to design and install the AV switching and distribution system. SCI selected the XTP II CrossPoint 3200 32x32 matrix switcher for its modularity, versatility, and reliability. It is configured as 16x16, providing ample room for future expansion. Seven XTP CP 4K twisted pair input and output boards enable signal extension of video, audio, and bidirectional control between the matrix switcher in the central equipment room and the various remote sources and displays, regardless of the configuration of the divisible spaces. Extron XTP ® twisted pair transmitters and receivers are powered by the matrix switcher and deliver signals to the remote devices. The XTP II CrossPoint ® matrix switcher also includes an XTP CP 4o SA audio output board to facilitate connections to the sound system.
Three Extron DMP 128 AT Digital Matrix Processors provide audio processing and Dante ® network connectivity. They bring audio sources onto the center's Dante network. In addition to supporting the nearly 100 Dante streams, each 12x8 audio processor's built-in ProDSP ™ technology, mixing, and other capabilities empower efficient sound management for the diverse activities held within the CCACC's configurable spaces. Extron SF 3C LP and SI 26CT ceiling speakers positioned throughout the building facilitate a well-balanced mixture of speech reinforcement and music playback.
Extron TLP Pro 1022M and TLP Pro 520M Wall-Mount TouchLink ® Pro Touchpanels are installed strategically on stationary walls, enabling familiar user-friendly AV system control throughout the facility. Two Extron IPCP Pro 350 IP Link ® Pro Control Processors work in conjunction with the 10" and 5" touchpanels to control AV signal routing, sources, and displays. Four Apple ® iPad ® tablets with the Extron Control app allow convenient system control throughout the facility.
SCI used Extron Global Scripter ® to program the control system. They stated that its IDE - Integrated Development Environment was powerful. It facilitates easy management of the functional intricacies of the system and active device I/O polling, among other essential tasks.
Results
SCI installed a sophisticated divisible room system that met all requirements using Extron XTP signal routing and TouchLink Pro control. The configurable spaces are in regular use for meetings, receptions, and exhibitions of varying sizes. County officials are quite pleased with the success of the new CCACC, and its XTP system with programmable AV system control.