Extron Teams Up with Concordia to Showcase 21st Century Learning Environments
Public relations contact:
Joe da Silva, Vice President of Marketing
Extron
E-mail: pr@extron.com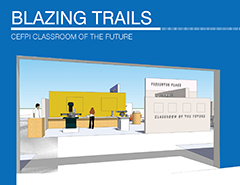 Anaheim, California (October 2, 2014) - Extron Electronics is pleased to announce they have teamed up with Concordia Architects to demonstrate innovative learning environments at the CEFPI Annual Conference and Exposition, October 3-6 in Portland, OR. These "places" were developed to reflect changes in instruction that promote more critical thinking, problem solving, and communication, and draw on Extron's expertise in educational technology including PoleVault Digital for classroom AV, TeamWork for collaboration, and GlobalViewer software for bells, paging, and intercom.
The Maker Place offers tools and equipment that enable teachers and students to build and demonstrate the principles of math, science, language arts, and social studies. The Teaming Place promotes local and distance collaboration for planning, problem-solving, and exploring. The Hangout Place is where students can relax during "down time" and assimilate their learning individually or with others. The Presenter Place features large projected images, high quality sound, high-resolution video, and other technologies for large group presentations. The Network Place demonstrates how to tie everything together with the network, including digital signage, AV streaming, bells and paging, and remote control for support and energy efficiency.
"At CEFPI, our principal purpose is improving the places where children learn," says John K. Ramsey, CEO of CEFPI. "This year's conference will explore unique kinds of spaces for providing real-world learning experiences where students are enabled, engaged and empowered to succeed."
"The classroom of the future will provide educators with a full range of choices, including places for presenting, creating, collaborating, and processing," explains Steven Bingler, President of Concordia. "Our design approach enables us to leverage state-of-the-art tools and technology to meet the challenges of 21st century teaching and learning."
"These innovative learning environments draw heavily from Extron's expertise in educational technology, and demonstrate how design and technology can work together seamlessly to enhance the student's experience," says Anthony Cortes, Director of Sales and Marketing, K-12 Classroom Systems for Extron."They also highlight how our PoleVault Digital classroom AV systems, TeamWork collaboration systems and GlobalViewer software provide the features, ease-of-use, and reliability that are important to districts."
In the spirit of this year's CEFPI conference theme, "Blazing Trails," the CEFPI CLASSROOM OF THE FUTURE will look back, at the accomplishments of some pioneers in the Northwest Territory, and also forward to the design of teaching and learning environments for the 21st century. In addition to highlighting the latest in design, materials, and technology, the spaces allow individuals to experience the classroom from the viewpoints of an instructor, student, and support staff.
For details on the CLASSROOM OF THE FUTURE at the CEFPI Annual Conference, please visit: http://www.cefpirobustservices.org/websites/cefpi2014/index.php?p=138
For more information on Extron Electronics, please visit: www.extronclassroom.com
For more information on Concordia Architects, please visit: www.concordia.com