Now Shipping Cable Cubby Enclosure with Space-Saving Design and Faster Installation
Public relations contact:
Joe da Silva, Vice President of Marketing
Extron
E-mail: pr@extron.com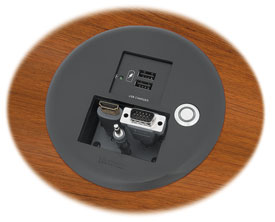 Anaheim, California (November 2, 2015) - Extron Electronics is pleased to announce the immediate availability of the Cable Cubby 100, the latest addition to the popular Cable Cubby Series/2 line of furniture-mountable cable access enclosures. The Cable Cubby 100 is a compact, round enclosure for AV connectivity and USB power that is ideal for applications where a single user access point is required. Its convenient round design eliminates the need to measure or use a routing template, making installation quick and easy using a standard four inch (102 mm) hole saw.
"We recognized a need for a compact cable access enclosure with a space-saving design that is fast and easy to install," says Casey Hall, Vice President of Sales and Marketing for Extron. "The Cable Cubby 100 satisfies this need with a convenient round design that can be installed quickly and easily."
The Cable Cubby 100 features two connectivity openings for up to four single-space Mini Architectural Adapter Plates - MAAPs or two single-space MAAPs and three AV cables. Its modular design allows cables and MAAPs to be serviced from the top of the enclosure after it is installed. The Cable Cubby 100 is also available with two USB power outlets for charging mobile devices. The Cable Cubby 100 Switch Kit is available for "Show Me," push to talk, or mute mic applications. A cover plate conceals mounting screws giving a refined appearance. The Cable Cubby 100 is available in a black finish.
For more information about the Cable Cubby 100, please visit: www.extron.com/cc100nspr