Extron Announces Next Generation Cable Cubby Enclosures for AV Connectivity and AC Power
Public relations contact:
Joe da Silva, Vice President of Marketing
Extron
E-mail: pr@extron.com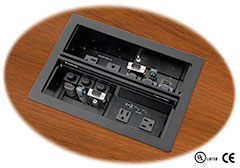 Anaheim, California (December 5, 2013) - Extron Electronics is pleased to introduce the Cable Cubby Series/2, the next generation of Cable Cubby cable access enclosures for AV connectivity and AC power. These durable, furniture-mountable enclosures are available in two sizes and feature a slim, unobtrusive design that is ideal for use on surfaces where space is at a premium. For fast installation, a simple integrated clamp system secures the Cable Cubby Series/2 enclosures to the furniture surface. The patent-pending, modular enclosures accommodate Extron Retractors, AV cables, or AAP-Architectural Adapter Plates. Cables and AAPs can be installed or serviced from the top of the enclosure after installation. Cable Cubby Series/2 enclosures are available in a black anodized or brushed aluminum finish to blend in seamlessly with modern furniture and room decor.
"Cable Cubby enclosures are a mainstay for AV connectivity in boardrooms, conference rooms, and classrooms worldwide," says Casey Hall, Vice President of Sales and Marketing for Extron. "We rolled more than a decade's worth of experience into the design of the new Series/2 enclosures, improving aesthetics and serviceability, and adding unique connectivity options to support mobile devices in today's BYOD presentation environments."
The Cable Cubby Series/2 includes the Cable Cubby 1200 for single-user applications, and the Cable Cubby 1400 for applications that require a compact, centrally located enclosure for two or more users. Slim, low profile lids provide a full width pass through for cable management, whether open or closed. AC power modules are available for the US, Europe, and other major world markets. Most AC modules include two unswitched outlets. To support the rapid transition to smartphones and tablets in AV presentation environments, there are also optional AC+USB power modules with one or two AC power outlets, and two USB power outlets that are ideal for charging mobile devices.
To watch a product introduction video, please visit: www.extron.com/cablecubby2video
For more information on the Cable Cubby Series/2, please visit: www.extron.com/cablecubby2pr