Extron CableCover Improves Conference Room Cable Management
Public relations contact:
Joe da Silva, Vice President of Marketing
Extron
E-mail: pr@extron.com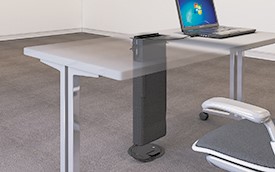 Anaheim, California (July 14, 2014) - Extron Electronics is pleased to introduce CableCover, a durable, fitted bag that mounts below most Extron Cable Cubby, Cable Cubby Series/2, and TouchLink Cable Cubby enclosures. When installed, CableCover improves under-table cable management and aesthetics, minimizing cable tangles and preventing accidental disconnections. CableCover is 19" (48 cm) deep, providing ample room for up to eight AV cables or three Extron Retractor Series cable retraction modules. Three pass-through openings at the top and bottom of the bag facilitate cable installation and connection with both surface- and floor-mounted AV products. CableCover is constructed of flame-retardant, black polyester fabric and includes a roll of self-adhesive, hook-and-loop tape for mounting to the enclosure.
"Extron Cable Cubby enclosures are the AV industry's 'go to' products for conference room cable management on top of the table, but many customers asked for something to dress up the underside of the installation as well," says Casey Hall, Vice President of Sales and Marketing for Extron. "CableCover provides a simple, elegant, and easy-to-install solution that conceals loose AV system cables without affecting access or serviceability."
CableCover is compatible with most Cable Cubby enclosures and can be retrofitted to existing installations. CableCover meets the stringent California Bulletin 117 – Section E flammability standard for furniture-grade textiles.