Extron Wins Two BEST Product Awards
Public relations contact:
Joe da Silva, Vice President of Marketing
Extron
E-mail: pr@extron.com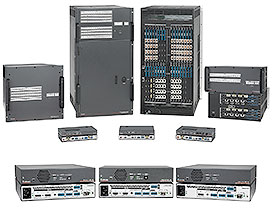 Anaheim, California (June 26, 2015) - Extron Electronics is proud to announce it has won two Commercial Integrator BEST Awards. The Extron FOX II 4K Series won in the Fiber-optic Transport category, and the XTP II CrossPoint Series won in the Matrix Switchers category. The Commercial Integrator BEST Awards program recognizes superlative solutions for an integration business based on innovation, functionality, competitive advantages, and benefits to the integrator and installer.
"We are very pleased that the FOX II 4K Series and the XTP II CrossPoint Series have both been recognized as two of the best Pro AV products of 2015," says Casey Hall, Vice President of Sales and Marketing for Extron. "These two product series exemplify our continuing commitment to evolve our product lines into future-ready solutions for emerging formats that meet the challenges of 4K and beyond."
The Extron FOX II 4K Series are fiber optic extenders for long haul transmission of DisplayPort or HDMI video, multi-channel audio, RS-232 control, and IR control signals over fiber optic cabling. The series includes the FOX II T DP 4K transmitter and FOX II R DP 4K receiver for extension of DisplayPort signals, and the FOX II T HD 4K transmitter for extension of HDMI signals. Engineered with uncompromising quality and proven performance, Extron all-digital technology delivers lossless computer and video images up to 4096x2160, including 1080p/60 with Deep Color. This HDCP-compliant series supports 4K video and has selectable downscaling for the local monitor output. The FOX II 4K Series also includes many integrator-friendly features such as Key Minder, EDID Minder, audio embedding, audio gain and attenuation, as well as real-time system monitoring.
The XTP II CrossPoint Series modular digital matrix switchers represent a monumental leap in engineering and product design, providing unmatched, high performance routing of video, audio, bidirectional control, and Ethernet in a future-ready integrated solution. The 50 Gbps digital backplane easily exceeds the data rate required to distribute 4K/60 video with 4:4:4 chroma sampling at 16 bits per color. This offers an immediate path to support emerging formats and higher resolutions. These matrix switchers can be configured with a variety of boards, including the XTP II HDMI input and output boards that support HDMI 2.0 and HDCP 2.2, the family of XTP 4K fiber optic boards and endpoints, and any of the existing XTP Systems family products. To streamline system installation, they are loaded with proven Extron technologies and feature hot-swappable modular components, easy-to-use system configuration software, and advanced 24/7 system monitoring and control capabilities. They are available in three configurable frames for I/O sizes from 4x4 to 16x16, 32x32, and 64x64 to meet the application needs of today's AV switching and distribution systems.
To watch product introduction videos, please visit www.extron.com/foxii4kvideo and www.extron.com/xtpiicrosspointvideo.
For more information on the FOX II 4K Series, please visit: www.extron.com/foxii4kpr.
For more information on the XTP II CrossPoint, please visit: www.extron.com/xtpiicppr.