Appalachian State University Belk Library Video Recording Center Relies on Extron Switching, Distribution, and Control
Public relations contact:
Joe da Silva, Vice President of Marketing
Extron
E-mail: pr@extron.com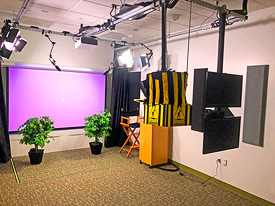 Anaheim, California (June 30, 2022) - The video recording Center at the Belk Library and Information Commons is a versatile and convenient resource for students, faculty, and staff at Appalachian State University in North Carolina's Blue Ridge Mountains. The center is a self-service one-stop shop where users of all skill levels create professional live videos of presentations and lectures. A choice of recording modes is available, including green screen, flat panel display, or see-through writeable lightboard. The AV control system automatically configures the room for the desired recording mode in response to a few taps on an intuitive touchpanel interface. Users walk in with an idea and walk out with their video stored on a USB flash drive. The facility was designed and built by the in-house AV Technology Support and Digital Media teams staffed by digital media consultant Will Cummings, technology support technician Hunter Phillips, technology support specialist Bryan Estel, and technology support technician Karl Moretz. They turned to Extron to supply AV switching, distribution, control, and lecture capture equipment for the Video Recording Center.
"Appalachian State has a long association with Extron for its AV needs, so we naturally turned to them to equip the Video Recording Center," says Bryan Estel, "Extron training equipped our team with the knowledge that allowed us to design and build the AV systems ourselves, with no outside technical assistance."
An IN1608 xi IPCP SA scaling presentation switcher with an integrated control processor is the main AV switcher and controller. Users pick recording modes via TouchLink® Pro touchpanels, automatically configuring the AV system, opening-closing the stage drapes, raising-lowering the projection screen, turning stage lights on-off, and quieting the HVAC system during recording. Presenters, along with their presentation material shown on the display(s), are captured by the room's two cameras, one at the stage, the other at the light board. Mics on stage and at the lightboard pick up the voices of presenters and audio coming from the display speakers. The mics feed the sound to the cameras, which embed the audio into their HDMI output signals. Audio and video from the appropriate camera is routed by an SW2 HD 4K HDMI switcher to an Extron StudioStation® lecture capture system. Presenters simply insert a USB flash drive into the StudioStation RCP 101 remote control panel, press Record, and take the stage to do the shoot. When done, they press Stop. StudioStation automatically saves the recording as an mp4 file to internal memory and to the user's flash drive for "capture and carry" portability. A tap on a TouchPanel "Reset Room" button turns everything off automatically.
To read the full ASU Belk Library Video Recording Center case study and watch the associated demo video, click here.