AXP 64 C AT
6 Input, 4 Output Audio Expansion Processor with AEC and Dante
The ExtronAXP 64 C AT is an audio expansion processor with six mic/line inputs and four line outputs for remote connectivity to a Dante®-enabled audio system. It is used to place six mic/line sources onto a Dante audio network, and route any four Dante channels from the network to an amplifier or other destination. The AXP 64 C AT features Extron ProDSP™ with gain, filtering, and dynamics processing for all inputs and outputs. Four of the inputs also include AEC, 48 volt phantom power, and dedicated control ports for mic control. FlexInputs offer the additional capability to process Dante channels in place of local analog inputs 1 - 4. A single Ethernet cable from one AXP 64 C AT, or several linked units, to a central equipment rack greatly reduces the effort and expense of pulling one cable for each endpoint.
Key Features
Six mic/line level inputs for transmitting audio to a Dante network
Four inputs with 48 volt phantom power
Four independent channels of AEC - acoustic echo cancellation
Four inputs with FlexInput capability to select between analog or Dante inputs
Four line outputs receive audio from a Dante network
Dante audio networking provides a wide range of expansion capabilities
Built-in four-port Gigabit switch — Provides network pass-through to additional AXP Series units and direct interconnection to DMP 128 Plus AT or DMP 128 AT units. Any port can be designated for control only
One digital input and dual digital outputs at first four mic/line inputs for control
Compact 1U, half rack width metal enclosure
ProDSP 32/64-bit floating point signal processing
Low latency DSP processing
DSP Configurator™ Software
Intuitive Graphical User Environment
Building Blocks processor settings
Dante Audio Networking

Dante technology from Audinate provides digital audio distribution over standard local area networks. Dante allows high resolution audio channels to be transported uncompressed across a switched Ethernet data network using standard TCP/IP protocols, while meeting the stringent quality requirements of professional audio. With Dante, AXP 64 C AT and DMP 128 Plus AT processors can share multiple channels of high resolution digital audio with each other over a local area network. They can be directly linked using their built-in four-port Gigabit Ethernet switches, through standard network hardware, including switches, or by connecting into a network infrastructure.
Input and Output Expansion Using Dante

The AXP 64 C AT is a true system expander for a DMP 128 Plus AT, with capability beyond a simple break-in box, digital snake, or break-out box. The built-in DSP processing, coupled with the capabilities and flexibility of Dante networking, create a powerful distributed approach to adding microphones to a system or for routing source audio to systems in various rooms. Traditionally, expanding a system requires that each input or output channel be matched with DSP at the rack. This often necessitates the addition of one or more processors to the system, with only partial utilization of their I/O and DSP capacity.
A sound system designer can incorporate several AXP 64 C AT or AXP 50 C AT audio expansion processors to create a large mixing matrix with up to 56 remote inputs and 24 outputs per DMP 128 Plus AT. This greatly simplifies scalability and the audio cabling infrastructure. In addition to using the Dante network, multiple AXP Series and DMP 128 Plus AT units can be linked over their integrated four-port Gigabit switches.
The AXP 64 C AT greatly reduces equipment, cabling, and installation costs by allowing integrators to remotely locate and process microphone and program channels, insert them onto the Dante network, and receive them as expansion inputs to one or more DMP 128 Plus AT processors, or other Dante-capable device. To further simplify the audio cabling infrastructure, the AXP 64 C AT can convert any channels on the Dante network to line level audio signals, process them, and route the optimized audio to local sound reinforcement systems.
Easy-To-Use DSP Configurator Software for Fast Setup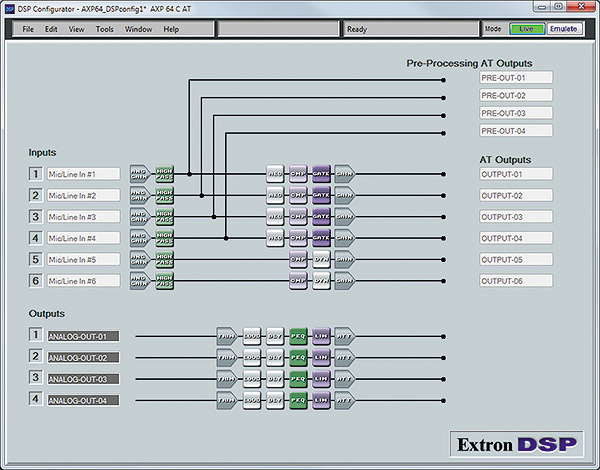 Extron ProDSP includes all the essential DSP tools needed to set up and fine-tune audio systems. These tools, or processing blocks, allow for control and management of gain, dynamics, filtering, AEC, and more. Extron digital audio processors serve as the central point for sound system setup and optimization. This can simplify system designs and save money by eliminating more complicated DSP equipment. This easy-to-use configuration approach saves time during system tuning.
For the AXP 64 C AT, Gain, Filter, and Dynamics blocks are available for each input and output. AEC blocks are also available for the first four inputs. Selecting any of these blocks opens a dedicated pop-up window with a range of options and customizable parameters. Multiple windows can be open at the same time. Input levels can be monitored at any time by simply opening any of the pre-processing Gain windows, or the convenient meter bridge.
To further expedite configuration, Extron Building Blocks can be applied to any of the inputs. Each Building Block includes gain and processor settings optimized for a specific type of input device, such as microphones, with preset levels, filters, dynamics, and more. Building Blocks can also be customized and saved, or created by capturing the current gain and processor settings for an input.
Extensive Array of DSP Tools
AEC
4 independent acoustic echo cancellers with selectable noise reduction
GAIN STAGES
2 gain stages across input paths; 2 gain stages across output paths
DYNAMICS
AGC - Automatic Gain Control
Compressor
Limiter
Noise gate
FILTERS
5 filters per input
High pass
Low pass
Band pass
Shelving
Parametric EQ
DELAY
Up to 200 ms; available on all outputs