Extron Introduces New Mic/Line to Dante Audio Interface
Public relations contact:
Joe da Silva, Vice President of Marketing
Extron
E-mail: pr@extron.com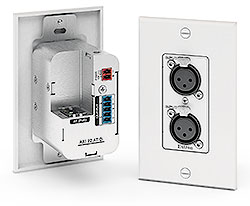 Anaheim, California (February 18, 2015) - Extron Electronics is pleased to introduce the AXI 22 AT D, a single-gang decorator-style audio interface for integrating two mic/line sources onto a Dante™-enabled DMP 128 audio system. It features two XLR audio inputs and switchable 48 volt phantom power for connecting and powering condenser microphones, plus gain controls for each input. The AXI 22 AT D also features two line outputs on the back for routing any two Dante channels from the network to an amplifier, or connecting into an optional secondary wallplate with two XLR outputs. The AXI 22 AT D interfaces with Extron Dante-equipped audio processors over a standard local area network, and can be powered through PoE. This greatly simplifies the cabling infrastructure for integrating audio connectivity in locations remote from a central equipment rack.
"The AXI 22 AT D makes it easy to design audio systems that provide input and output connections for microphones and other audio equipment throughout a facility, leveraging the flexibility and scalability of Dante audio networking," says Casey Hall, Vice President of Sales and Marketing for Extron. "This provides a much more efficient and cost-effective alternative to running long audio cables everywhere in a building."
The AXI 22 AT D digitizes two incoming analog mic/line audio channels at 24-bit/48 kHz for output via Dante, and converts two Dante audio channels for its analog line level outputs. It is connected into a Dante network over Ethernet using standard IP networking protocols. This avoids the effort and expense of pulling long analog mic cables from an audio processor to each wall, floor box, or furniture location. Audio system designers can easily design an audio system with AXI 22 AT D wallplate interfaces throughout a large facility, each connecting back into a central equipment location. For additional integration convenience, the AXI 22 AT D can be remotely powered through Power over Ethernet - PoE, using Extron XTP PI 100 and XTP PI 400 power injectors, a network switch equipped with PoE, or a midspan PoE injector.
A network of Extron Dante-enabled products, including the AXI 22 AT D audio interfaces, can be set up using Dante Controller software as well as DSP Configurator Software. Dante Controller is used to easily assign an output from an AXP 22 AT D to an input on a Dante-equipped digital signal processor, such as the Extron DMP 128 AT. Similarly, an output from a DMP 128 AT can be assigned to appear at the line level output AXP 22 AT D.
To watch a product introduction video, please visit: www.extron.com/axi22atdvideo
For more information on the AXI 22 AT D, please visit: www.extron.com/axi22atdpr