Extron Introduces AVTrac®: The Elegant Alternative to Trenching and Coring
Public relations contact:
Joe da Silva, Vice President of Marketing
Extron
E-mail: pr@extron.com
Anaheim, CA (June 19, 2007)
- Extron Electronics is pleased to introduce the Extron
AVTrac®
, a low-profile, floor-mounted cable raceway system with a modular AAP - Architectural Adapter Plate enclosure. It is designed for use in any environment where AV devices require connectivity but are not positioned near a wall or other area where power, data, and AV connections are traditionally located. AVTrac® is a cost-effective, discreet alternative to power poles, poke-through devices, trenching, and raised access flooring. It is ideal for use in classrooms, training centers, and corporate boardrooms as well as legacy installations and other reconfigurable spaces that require flexible placement of AV, power and data connectors.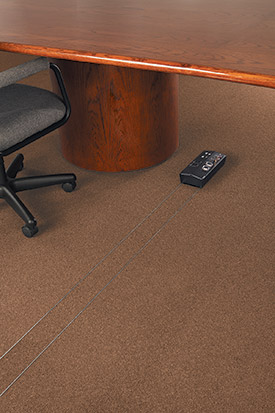 AVTrac®
Click here to download high resolution image
"AVTrac® gives architects and interior and AV system designers the freedom to place AV connectivity exactly where it is needed today with the flexibility to adapt to future needs", notes Lee Dodson, Extron Vice President of Marketing. "It dramatically reduces the aesthetic, financial, structural, or regulatory concerns normally associated with alternative methods of routing AV, power, data, and control signals."
The AVTrac® is UL/CUL listed and compliant with ADA standards for slope and rise. The raceway system includes the low-profile 8' (2.4 m) track, as well as two 8' side ramps and two end transition ramps designed to be installed underneath commercial grade carpet. AVTrac® is available in two models: The AVTrac® 480C accommodates matching carpet in the aluminum raceway top cap, and the AVTrac® 480R includes a black Roppe® rubber strip for installation in the top cap in place of a carpet inlay. The modular AAP enclosure supports all of the Extron AAPs creating a fully customizable connectivity solution. It includes 2 double-space and 2 triple-space AAP openings that accommodate common audio, video, phone, power, and data connectors, and ships with a factory installed AVTrac® AC Power Module AAP with two Edison female AC outlets. Two additional Edison female AC outlets may be added in the unpopulated triple-space AAP opening by ordering the optional AC Power Module Expansion Kit. The enclosure has removable top panel enabling convenient access for cable termination and connector installation. For pricing and availability, please contact your customer support representative at 800.633.9876.
Visit the press area of our Web site at www.extron.com/press for more information.