Extron Releases Updated Design Guide - AV Technology for Learning Environments
Public relations contact:
Joe da Silva, Vice President of Marketing
Extron
E-mail: pr@extron.com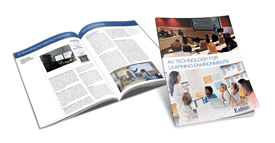 Anaheim, California (May 13, 2019) - Extron is pleased to announce the release of the latest AV Technology for Learning Environments design guide. This guide is a practical resource for AV technology and its integration within classrooms, huddle spaces, lecture halls, meeting areas, multipurpose rooms, and more.
Covering a wide variety of subjects, the updated design guide provides information that any decision maker or designer will need to consider when planning for technology enhanced learning environments. Topics include sources, video signals and connections, infrastructure, displays, mounting, sound systems, control, and support.
"Technology enhanced classrooms, BYOD, 1:1, flipped learning, and collaboration have all become part of the active learning environment," says Anthony Cortes, Director of Sales and Marketing, Education Classroom Systems for Extron. "The new AV Technology for Learning Environments guide aims to help educators and designers create environments that foster interactive engagement between students, faculty, and technology."
The updated AV Technology for Learning Environments design guide includes sample designs that illustrate solutions for various applications, as well as a listing of Extron products that support them. Readers will also learn about exclusive Extron support resources, such as system builders, grants, state contract pricing, and design assistance.
For more information on how to obtain a free copy of Extron's AV Technology for Learning Environments design guide, click here.