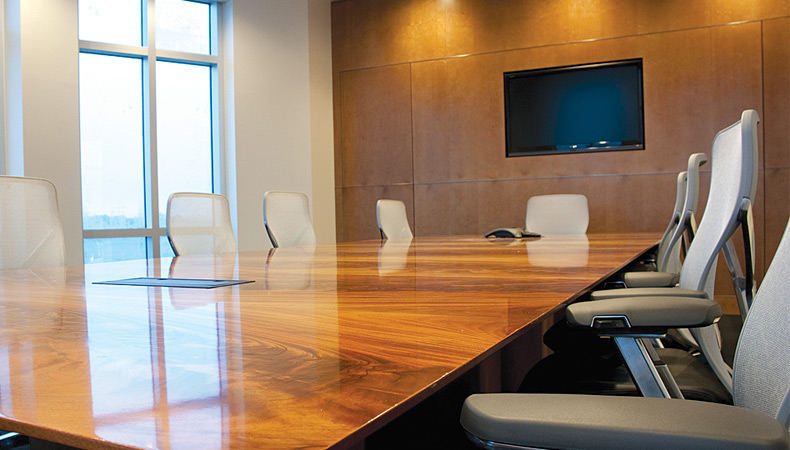 AV Presentation Room Monitoring
Overview
Many organizations with presentation environments want the ability to monitor and support live presentation sessions from a remote location, such as a helpdesk. AV technical staff can use Ethernet-based system control to access AV system and device functions, but often have to be in the presentation room to see what's on the display. This places demands on their resources by limiting their availability to concurrently address other support needs. Adding video streaming capability to presentation systems conveniently allows staff to view live on-screen content in high definition on their PCs. With video streaming, personnel can better manage and support multiple live presentation systems from the helpdesk or other locations.
Solution Needs Assessment
Source Inputs
Each AV presentation room includes AV connections at the lectern to support a presenter's laptop, with VGA and stereo audio. Every room also has two desktop PCs, a DVD/VCR combo player, and a CCTV tuner. A multiformat presentation switcher interfaces all sources with the projector.
Displays Near End
A single projector is installed in each presentation room.
Physical Location
AV support staff must be able to view on-screen content for any presentation room on their PC, at the helpdesk, or anywhere they can use a PC on the network.
Control System
A touchpanel control interface allows the presenter to select the source to be displayed on the screen and adjust or mute the volume. The video streaming encoder will be controlled with the switcher to ensure the correct source is being streamed at the optimal quality and bit rate.
Network
The facility has a shared use network. Streaming traffic must be kept to a minimum, at an ideal maximum of 2 Mbps according to IT policy.
Encoder Capabilities
The encoder must be compatible with various source signal formats and integrated into an existing system without the need for extra AV equipment. It also should allow encoding bit rate adjustments whenever necessary.
Displays Far End
The streamed output will be viewed on PCs at the helpdesk or elsewhere in the facility. Staff should be able to quickly and easily configure any PC to receive streamed video.
Additional System Requirements
An audio system for playback of voice and program audio content. A microphone is to be provided for the presenter.
System Design Solution
Streaming Encoder
For each presentation room, an Extron SME 100 Streaming Media Encoder will be interfaced into the existing AV system between the MPS 409 Media Presentation Switcher and the projector. The input loop-throughs of the SME 100 allow it to be installed without affecting AV system functions. An integrated three-input switcher on the SME 100 enables selection between the DVI, VGA, and standard definition outputs from the MPS 409 for streaming. EDID emulation and Auto-Image™ allow the SME 100 to be integrated into the system without extensive setup procedures. The SME 100 also features integrated video and graphics scaling to optimize source signal conversion for streaming.
Control System
An Extron TLP 1000TV TouchLink™ Touchpanel is the user interface to the system, and works together with the IPCP 305 Ethernet Control Processor to control AV sources, the MPS 409, and the projector. The source switching in the SME 100 will be programmed to work together with the MPS 409 so that on-screen presentation content is streamed at the same time. Support staff will have additional control capabilities for the SME 100 from a Web browser on any PC, including the ability to stream any source in the system, and adjust streaming video quality including resolution, bit rate, frame rate, and picture controls.
Network
By combining scaling and selectable encoding quality control, the SME 100 is able to meet low bit rate targets in a shared use network environment. Streaming presets are available so that staff can quickly adjust video resolution and encoding settings to respond to changes in IT policy, or examine a source at or near its native resolution and quality.
Decoding
The AV staff will be able to monitor presentations or perform troubleshooting from their office connected to the enterprise network. A PC can connect through a Web browser to the SME 100, which automatically delivers an application capable of decoding the H.264 video streams. Third-party media players such as QuickTime ® or VLC can also be used to easily view content on any PC in the facility.