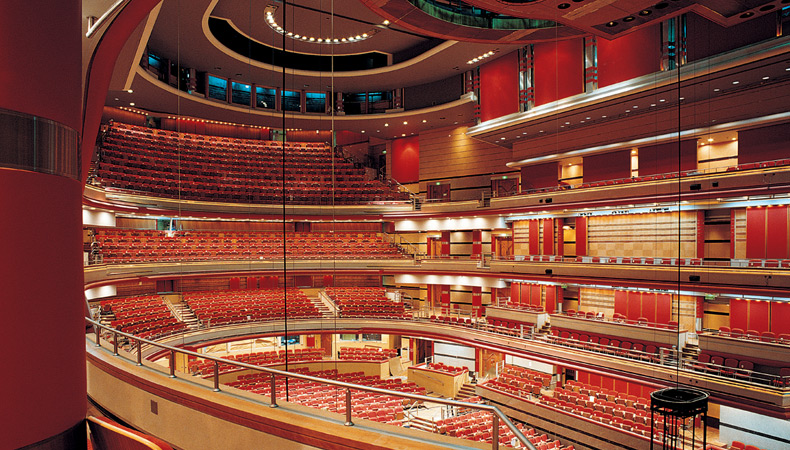 Performing Arts Center
This Performing Arts Center is a large multi-purpose venue with over 3,000 seats. The venue is used for a variety of live performances, including concerts, theatrical performances, awards ceremonies, and similar events.
Solution Needs Assessment
Staffing
During live performances, the control room will be staffed with experienced personnel to operate a professional video mixer and switcher, to control camera positioning for live broadcast feeds. Dayto- day operation involves updating digital content for the media servers that feed the marquee displays, digital signage, and concession menus. Digital signage updates are performed by trained data entry personnel. Switching video sources in the lobby areas must be simple, with multiple points of control available.
Display Requirements
Flat panel displays are installed throughout the public lobby areas. Displays are used for live broadcast of a performance, programmed video for digital signage, or for special events from video sources connected to one of several wallplates. A professional-style control room will include multirate SDI displays for monitoring and controlling video output from camera feeds.
Sources and Connectivity
The auditorium includes six professional HD-SDI cameras. Two of the cameras are in fixed positions mounted near the ceiling for wide-angle views. Four mobile camera positions are located within the auditorium. Media servers provide playback of recorded video to monitors throughout the auditorium. All video sources provide 1080p video resolution.
Special Requirements
Long cabling requirements between camera positions, lobby displays, wallplates, and the equipment room, exceeding 300 meters (1,000 feet), are easily fulfilled with the use of fiber optic cabling. The theatre also has limited conduit space, and there is a strong desire to minimize the need for reconstruction in the main auditorium. The office and lobby areas are undergoing a more extensive renovation, including installation of a new fiber optic infrastructure.
System Design Solution
Display System
Six 52-inch (132 cm) LCD displays, two per concession area, are used to display menus and prices. Twenty-eight 60‑inch (153 cm) LCD displays are used in the lobby and box office areas. Six 22-inch (56 cm) and two 46-inch (117 cm) HD-SDI monitors are located in the control room. A 22-inch HD-SDI LCD monitor is located at each manned camera position.
Sources and Connectivity
Four mobile and two fixed camera positions include professional grade cameras with HD-SDI outputs. Twenty wallplates, located at various locations throughout the center, provide DVI video and stereo audio inputs.
Switching and Signal Management
The Extron FOX Matrix 3200 32x32 Fiber Optic Matrix Switcher provides signal routing between sources and displays. Both multi-rate SDI and DVI-D signals are routed through the matrix switcher.
Extron PowerCage FOX Rx DVI Plus Fiber Optic Receiver boards convert each fiber optic signal from the FOX Matrix 3200 into an electrical DVI-D signal, for input into a media server. Each media server transmits the video input signal or prerecorded content via two DVI-D outputs.
Signal Distribution and Extension
A fiber optic infrastructure transports video signals to and from the equipment room over long distances and through narrow conduit.
Extron FOX 3G HD-SDI Fiber Optic Transceivers transmit the HD-SDI output signals from the cameras to the equipment room, and the control room. The FOX 3G HD-SDI supports up to 3G-SDI rates to deliver 1080p resolution with pixel-for-pixel
Extron FOXBOX Tx DVI Plus Fiber Optic Transmitter boards are used to send high resolution video signals from various locations to the equipment room.
Extron PowerCage FOX DVI Plus Fiber Optic Transmitter and Receiver boards provide a compact, space-saving solution for efficiently mounting fiber optic extenders within the equipment room.
Extron FOXBOX Rx DVI Plus Fiber Optic Receivers, discreetly mounted behind the LCD displays, convert fiber optic signals into electrical DVI video signals.
Video Signal Processing
The Extron Quantum™ Elite Videowall Processing System is a high performance multi-graphic videowall processor that outputs the required DVI-D video signals for the 3x4 videowall in the main lobby.
The Extron DVC 501 SD converts the multi-rate SDI live broadcast signals from the professional mixer and switcher to DVI-D video signals, for compatibility with the various LCD displays.