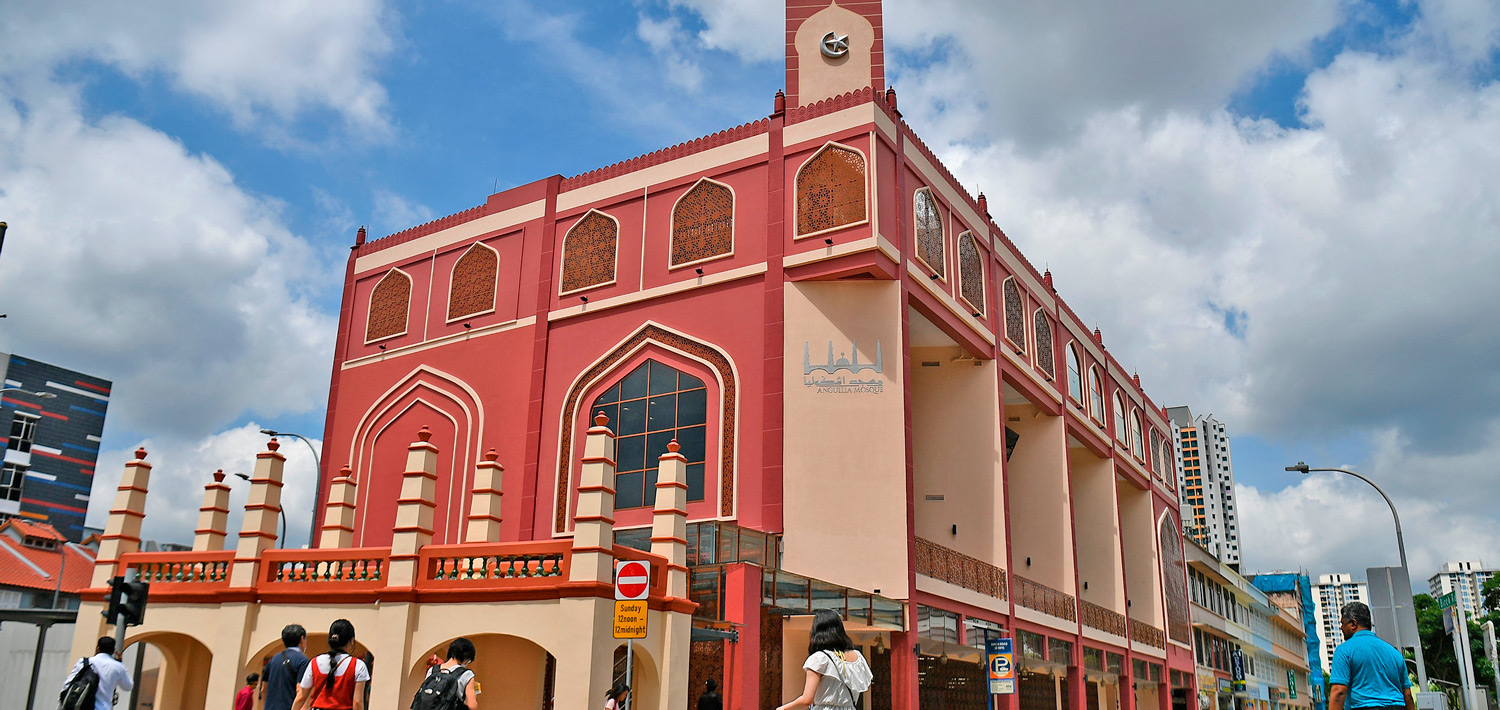 Extron AV Technologies Help to Modernize Singapore's Historic Angullia Mosque
Extron's AV switching, streaming, distribution, and control products exactly fit the system requirements for Angullia Mosque, with video processing that provides superior scaling capability to accommodate all the projectors and flat panel displays, and flexible control that users can operate with confidence.
Challenges
Mohammad Salleh Eusoff Angullia, an expatriate Sunni Muslim merchant from India, established the Angullia Mosque in 1890 in Singapore's Little India. It has been a religious and social gathering place for locals and foreign workers for decades. Rebuilt once in the 1970's, the building underwent another two-year renovation culminating with a joyful reopening in February 2020. The renovation doubled the prayer space to accommodate up to 2,500 congregants. Air conditioning upgrades and a new elevator enhance comfort and convenience. New spaces were added, including a dedicated area for female worshipers, classrooms, a multi-purpose auditorium hall, and a rooftop outdoor communal pavilion.
A key goal of the renovation was to make worship more accessible for those at the mosque, as well as those attending over the internet. To support this goal, Singapore's Islamic Religious Council engaged pro AV consultant Hazelbayu Studios Pte Ltd to design an AV system that equips the building to distribute audio and video to public and staff spaces throughout the mosque and surrounding grounds, as well as streaming to the internet for remote worshipers. Avitcom System Pte Ltd performed the AV system installation.
Solution
Extron DTP scaling matrix switchers, distribution amplifiers, transmitters, and receivers perform AV signal switching and distribution over shielded twisted pair cable up to 330 feet (100 meters) throughout the mosque's four levels and surrounding outdoor grounds.
4K AV Distribution Over Short and Long Distances
A DTP CrossPoint 108 4K matrix switcher located in the third-floor main control room performs the bulk of AV signal routing with a mix of HDMI and DTP inputs and outputs to accommodate short and long cable runs. AV sources feeding the main control room switcher inputs include cameras, PCs, mics, and audio mixers. Switcher outputs are routed to over a dozen projectors and flat panel displays located in reception areas, prayer halls, classrooms, meeting rooms, the auditorium, and outdoor gathering spots. Two DTP HD DA8 4K 330 distribution amplifiers expand two HDMI outputs from the main control room switcher to 16 DTP outputs that travel over twisted pair cables to DTP HDMI 4K 330 Rx receivers feeding displays located all around the mosque.
Picture-in-Picture Plus Streaming Fulfill Religious Imperatives
The picture-in-picture capability of the DVS 605 video scaler is used to produce unique content for Friday group prayers. When the Imam delivers the sermons before prayer, video showing worshipers in the main prayer hall appears as PiP within video of the sermon text. This is distributed throughout the mosque, as well as over the internet, allowing all worshipers to share a common experience, as required by Islamic practice. An Extron SMP 111 streaming media processor is used to stream live content to the internet via hosting services such as Facebook. It also records content for later use.
AV Sub-distribution in Auditorium and Pavilion
An auditorium and an open-air communal pavilion occupy the fourth floor of the mosque. This area has its own AV sub-distribution system built around a DXP 44 HD 4K matrix switcher. This switcher accepts HDMI or VGA program material from a PC connected via a DTP T UWP 4K 332 D wall plate in the auditorium. It also receives an HDMI input from the main AV distribution system via a DTP twisted pair cable run and a DTP HDMI 4K 330 Rx receiver, allowing any AV program source available on the lower floor displays to appear on the projectors and flat panel displays in the auditorium. As with the main AV system, the DXP 44 HD 4K matrix switcher outputs are expanded in number and extended over DTP twisted pair cable to displays at multiple locations in the auditorium and pavilion by a DTP HD DA8 4K 330 distribution amplifier and DTP HDMI 4K 330 receivers.
Intuitive and Versatile AV System Control
The control system is designed for operation by the mosque's non-technical clerics and their assistants. The intuitive touchscreen graphical user interface is accessible on several TouchLink Pro touchpanels positioned in key locations around the mosque. A TLP Pro 1025T is in the main AV control room on the third floor. Two TLP Pro 725T's are located in the second-floor Imam room and the second-floor administrative office. An Extron IP Link IPCP Pro 350 control processor located in the main AV control room commands AV system functions throughout the mosque in response to user selections entered at the touchpanels. An Extron IPA T RLY4 expands the number of relay closures available from the control processor to control lowering and raising the many projection screens throughout the mosque. The AV sub-distribution system on the fourth floor has its own IPCP Pro 250 control processor and TLP Pro 725T touchpanel located in the auditorium control room. For ultimate customization, flexibility, and futureproofing, the control system was programmed with Python in the Global Scripter integrated development environment.
Results
According to AV system design consultant Hazelbayu Studios Pte Ltd, "Extron's AV switching, streaming, distribution, and control products were the best choice for Angullia Mosque. Extron offers a mix of products that exactly fits the system requirements, with video processing that provides superior scaling capability to accommodate all the projectors and flat panel displays throughout the mosque. Python is the ideal programming platform to create a simple, flexible control environment that everyone can operate with confidence. We knew from previous projects that Extron quality and reliability are second to none, backed by a responsive technical team from a local warehouse and repair facility that also made it possible to provide on-site demonstrations during design consultations." With the mosque reopened for daily services, clerics and other users of the AV system could not be happier with how easy it is to use the system for education, prayer, and special events.