Simple Control Functions
for Basic Audio Needs
Fully configurable control panels for DMP Plus DSP processors

Customizable backlit buttons

Clean and elegant panel design

Available in decorator-style, EU, and MK form factors
ACP Series
Audio Control Panels for Use with DMP Plus Audio Processors
The ACP Series of configurable audio control panels interface with the DMP 128 Plus, DMP 128 FlexPlus, and DMP 64 Plus audio processors to provide volume adjustment for mixing and zone control, plus preset or macro recall for room configuration. Up to eight ACP Series control panels can be installed per DSP. Each panel can be used for independent control of a specific zone or to adjust audio settings for the entire combined space. Used with or without a control system, the ACP Series button panels are easy to configure using Extron DSP Configurator Software.
ACP Series audio control panels can be mounted in a lectern to provide easy access to mic volume, program volume, and source selection. Mounted on a wall, ACP panels provide an easy means of controlling individual and combined speaker zones in divisible meeting spaces. Since ACP panels are similar in physical appearance to many Extron MediaLink controllers, they can be used together throughout a facility, maintaining a consistent look and user experience. Buttons can be easily customized using Extron Button Label Generator software or the online Custom Button Builder tool.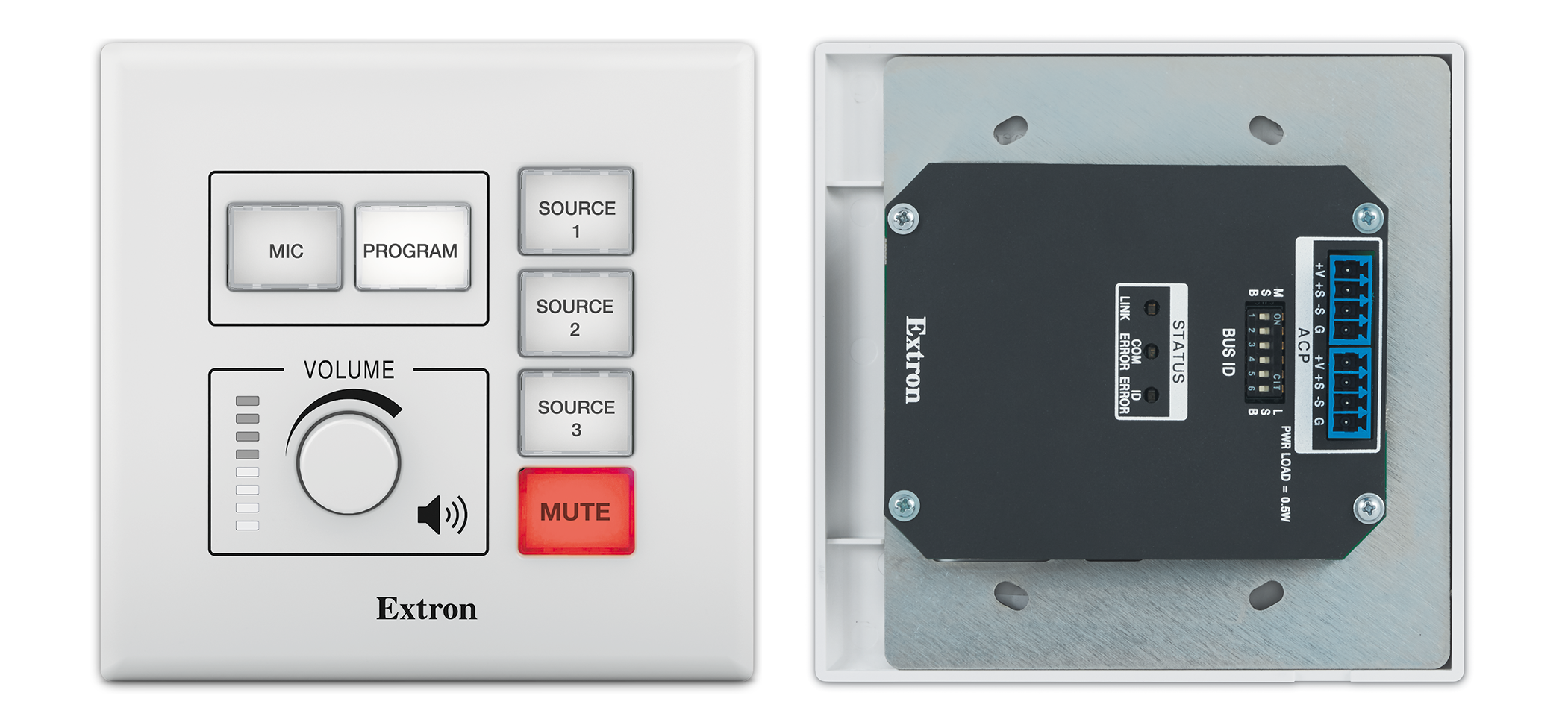 Volume knob with LED indicator

ACP 100 and ACP VC1

Various mounting options

US Single-Gang, US 2-Gang, EU - Flex55, and MK versions available

Configurable, customizable buttons with backlighting

Customize in the field or via Custom Button Builder, depending on model

ACP Status LEDs

Provides diagnostic information during installation

ACP device address DIP switches

Identifies unique ACP panels within a system

Two ACP ports

Connects to a DMP Plus and to another ACP
US Gang
The ACP 100 is a two-gang ACP Audio Control Panel with dual-colored backlit buttons and a volume control knob for smooth, precise volume adjustments.
Decorator-Style Wallplates
There are three audio control button panels for decorator-style wallplates in single and dual-gang form factors. Decorator-style wallplate models ship with black and white wallplates and mud rings for easy installation.
Flex55 and EU Wall Frames
There are three Flex55 and EU wall frame models. These mount into Flex55 enclosures or into one-gang EU junction boxes.
MK Wall Frames
There are three MK wall frame models, and all mount into one-gang MK boxes and enclosures for use in the UK, Middle East, Singapore, and other regions using MK-type enclosures. They include white wall frames and mounting brackets.