New Extron Video - Vector 4K vs. the Competition
Public relations contact:
Joe da Silva, Vice President of Marketing
Extron
E-mail: pr@extron.com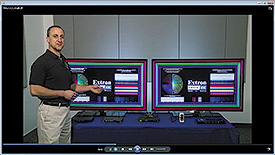 Anaheim, California (April 28, 2016) - Extron Electronics is pleased to announce the launch of a new video that demonstrates the superiority of Extron Vector 4K scaling technology. In the video, Dave Pincek, Vice President of Product Development for Extron, explains the benefits of 4:4:4 signal processing, and how it compares to 4:2:2 and 4:2:0 processing. He then demonstrates why video processing in the RGB, or 4:4:4, color domain is required for computer-generated graphics and text. The video features a side-by-side comparison of an Extron scaler with 4:4:4 processing and a competitor's scaler with 4:2:2 processing.
"It's important for AV system integrators to know the capabilities of the products they are installing for their customers," says Casey Hall, Vice President of Sales and Marketing for Extron. "This new video demonstrates that when scaling detailed computer generated content, you absolutely need 4:4:4 signal processing to ensure that critical details are accurately presented."
4:4:4 signal processing is just one of many benefits provided by Vector 4K scaling technology. Additional features such as bicubic scaling, automatic film cadence detection and motion-adaptive deinterlacing ensure scaled content preserves the critical detail present in the original source material.
Vector 4K was developed internally by Extron's expert team of signal processing engineers. For over 20 years, we have crafted patented image processing technologies that set the industry benchmark for visual performance. As a result, Extron has become an industry leader in scaling technology, designing best-in-class products renowned for their quality, reliability, and ease of use.
To watch the video, please visit: www.extron.com/444videopr