Extron Marks 25 Years of Service, Support, and Solutions
Public relations contact:
Joe da Silva, Vice President of Marketing
Extron
E-mail: pr@extron.com
Anaheim, California (May 8, 2008)
- 2008 marks Extron's 25th year of providing uncompromising service, support, and solutions to AV professionals, worldwide. During this time, Extron has become a leading designer and manufacturer of high quality, professional AV solutions with thousands of products, and offices located around the globe. The AV Industry has grown substantially in the last 25 years, and as new technologies are introduced, Extron will remain focused on helping its customers understand and utilize these technologies by providing the service, support, and solutions that have served Extron's customers well, year after year.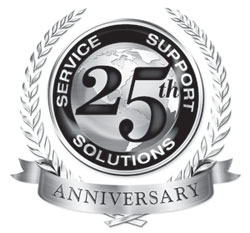 Click here to download high resolution image
"As proud as I am of the last quarter century here at Extron, I'm equally excited about the next 25 years," says Andrew C. Edwards, President and Owner of Extron Electronics. "Our industry is constantly changing. As new signal types come into the market, we take action to understand them, sort out the technology behind them, and then create innovative solutions that lead our customers into the future."
Extron is expanding its presence into new territories and larger facilities, worldwide. In 1983 Extron began with an 800 square foot facility in Stanton, California. Extron's headquarters has since expanded to a six building campus in Anaheim, California with over 400,000 square feet of office, warehouse, and manufacturing space. This year Extron held a ground breaking ceremony for its new, 140,000 square foot East Coast office in Raleigh, North Carolina. The new facility will provide enhanced support for our East Coast customers, offering greatly increased space for customer support, training, product distribution, and design engineering. The Extron European headquarters in Amersfoort, The Netherlands will be expanding substantially into a new, 300,000 square foot facility this summer. This landmark building, with its new, larger facilities for repair, customer training, and support, reflects Extron's growth in Europe and its commitment to provide unparalleled customer support. In 2007, Extron also opened a full-service office, product warehouse, training, and repair facility in Dubai, UAE to serve customers in the Middle East. Extron offices in Japan, Singapore, and China are also undergoing expansion, including new or enlarged training facilities in each.
Extron began training AV industry professionals back in 1989 when it held its first, full-day interfacing course at InfoComm. That same year, Extron published its Handbook of Computer Video Interfacing, Vol. 1. Since this time, Extron has trained thousands, and has grown to become recognized as the industry leader in AV technology education. Today, Extron's S3 Technical Institute offers a variety of AV training programs which can be found in Extron's worldwide offices, via the Web, and through Extron School On The Road. In addition to these Extron Institute Schools, Extron also offers a structured certification program. Extron Certifications are internationally-recognized credentials earned through the completion of specialized training on the latest AV technologies. Currently two certifications are available, with additional certifications scheduled to begin soon.
"We look forward to the future and the exciting challenges that new technologies will bring," says Edwards. "Extron will be right here with you to provide the service, support, and solutions you need to put these new technologies to use. Thanks for a terrific 25 years."