Extron Wins Three 2019 rAVe Readers' Choice Awards
Public relations contact:
Joe da Silva, Vice President of Marketing
Extron
E-mail: pr@extron.com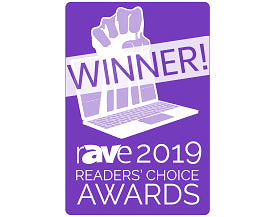 Anaheim, California (June 17, 2019) - Extron was recently honored with three 2019 rAVe Readers' Choice Awards. Readers of the varous rAVe publications honored Extron with awards for Favorite Manufacturer Sales Support Team, Favorite Control / Signal Processing Manufacturer, and Favorite Video Product Manufacturer. Accoding to their website, rAVe Reader's Choice awards recognize the very best in AV products, companies and technologies in the AV industry. This year, over 88,000 votes were collected exclusively from the AV community. Sponsorships, which might influence the outcome, are not allowed and rAVe Publications has a system that prevents anyone from voting twice.
"We are delighted and proud to have received three distinct votes of confidence from the AV community from around the world," says Casey Hall, Vice president of Worldwide Sales and Marketing for Extron. "The rAVe Reader's Choice awards represent an unbiased recognition of the most innovative products and the most outstanding manufacturers in the AV industry."
With offices around the globe, Extron is able to provide dedicated, full-service support to customers worldwide. Extron technologies play an important role in reinforcing communication, empowering learning, facilitating collaboration, and enhancing ambience. Extron has developed proven technologies for maintaining signal integrity, ensuring device compatibility, overcoming content protection issues, and delivering ultra-fast switching.
For more information on the 2019 rAVe Readers' Choice Awards, click here.