Extron Wins Two Best Product Awards from Sound & Video Contractor at NAB 2019
Public relations contact:
Joe da Silva, Vice President of Marketing
Extron
E-mail: pr@extron.com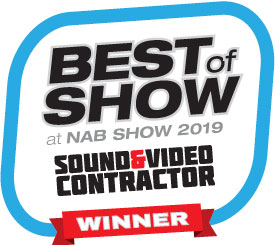 Anaheim, California (May 1, 2019) - Extron is pleased to announce that NAV™ Pro AV over IP Systems and the Quantum Ultra ultra-high bandwidth 4K videowall processor were honored with Future Best of Show awards presented by Sound and Video Contractor at NAB 2019 in Las Vegas. This prestigious award is bestowed upon products that excel in innovation, feature set, cost efficiency, and performance in serving the AV industry.
"We're proud of the work Extron engineers have done to advance the industry with the evolutionary NAV Systems and the multiple award-winning Quantum Ultra," says Casey Hall, Vice President of Worldwide Sales and Marketing for Extron. "The NAV family of products is the first to deliver 1 Gbps and 10 Gbps with interoperability across both systems, and the Quantum Ultra delivers secure videowall processing with unequaled real-time performance for your mission-critical applications."
NAV is the only no-compromise Pro AV over IP solution for distribution and switching of ultra-low latency, high quality video and audio signals over an Ethernet network at low bitrates. It delivers real-time, visually lossless video over IP at resolutions up to 4K @ 60 Hz with 4:4:4 chroma sampling. Products include both 1 Gbps and 10 Gbps encoders and decoders, and the system provides full interoperability across both systems. NAV combines the flexibility of an IP-based system with Extron's integration-friendly video and audio switching capabilities.
Quantum Ultra is a modular 4K videowall processor with high-performance scaling and windowing technology that accommodates a wide range of applications. It features the Extron Vector™4K scaling engine and HyperLane® video bus capable of carrying a multitude of high-resolution sources. A single processor can support multiple videowalls with mixed resolutions and screen orientations, providing flexible system design with minimal complexity and cost. The real time performance is unmatched. Quantum Ultra processor's configurability, features, and performance make it a future-ready solution for any videowall application.
For more information on NAV Systems, click here:
For more information on the Quantum Ultra, click here.