Extron ShareLink Pro 1000 Wins SCN 2019 Product of the Year Award
Public relations contact:
Joe da Silva, Vice President of Marketing
Extron
E-mail: pr@extron.com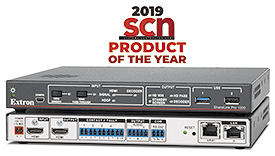 Anaheim, California (November 11, 2019) - Extron is proud to announce that the ShareLink Pro 1000 wired and wireless presentation system has been selected as a 2019 Product of the Year by Systems Contractor News. These awards showcase the new and innovative technologies that are redefining the AV industry. Extron's ShareLink Pro 1000 enables anyone to present wired or wireless content from their computers, tablets, or smartphones onto a display for easy collaboration. It features streaming technology that supports simultaneous display of up to four devices including an HDMI-connected device, and dynamically updates the display layout as new content is shared or removed. The HDMI input supports wired connections from any connected source in the room.
"We are delighted that ShareLink Pro 1000 has been recognized as an SCN 2019 Product of the Year," says Casey Hall, Vice President of Worldwide Sales and Marketing for Extron. "With ShareLink Pro, users can collaborate using most any device, and simultaneously share wired and wireless content on the same screen at the same time. We created the ShareLink Pro to support the growing popularity of collaborative environments by offering greater flexibility in how users share content."
To support a wide range of environments, ShareLink Pro has collaboration and moderator modes that facilitate both open and controlled environments. When used with Extron GVE – GlobalViewer Enterprise software, multiple units can be managed across an enterprise or campus. ShareLink Pro's professional capabilities provide easy integration of AV and mobile devices into meeting, huddle, collaboration, and presentation spaces.
For more information about the ShareLink Pro 1000, click here.