Extron Wins Three SVC 2019 "Most Innovative Product" Awards
Public relations contact:
Joe da Silva, Vice President of Marketing
Extron
E-mail: pr@extron.com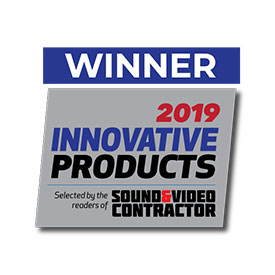 Anaheim, California (November 7, 2019) - Extron is pleased to announce three Extron products received top honors in three categories in the 9th annual Sound & Video Contractor Innovative Product Awards. Selected by readers, the awards celebrate the engineering and engineers behind each of the winning product families. The three winning Extron products are XPA Ultra Series Power Amplifiers, TLC Pro Control Systems, and SMP 111 Streaming Media Processors.
"We're extremely pleased that our products have been recognized in this way by readers of SVC," says Casey Hall, Vice President of Sales and Marketing for Extron Electronics. "All three of the products exemplify our continuing commitment to providing innovative solutions for our customers."
The Extron XPA Ultra lineup of ENERGY STAR qualified power amplifiers provide defeatable auto-standby while maintaining fast wake up and their convection cooled, fanless designs allow units to be installed without using rack spaces for ventilation. TLC Pro Control Systems are complete solutions that combine a TouchLink Pro touchpanel with a built-in IP Link Pro control processor. This all-in-one approach streamlines system designs by consolidating essential control system components, freeing up space, and easing integration. The SMP 111 is a high performance recording and streaming processor for capturing and distributing AV sources and presentations as live streaming and recorded media. Extron high performance scaling and flexible signal processing enable superior display of content of varying resolutions from computers and HDTV sources.
For more information on Extron products, click here.